Banana bread is synonymous with my childhood. It was literally one of only two things my mom ever baked, so we ate banana bread quite often. My mom never really got adventurous in the kitchen, so the banana bread she made was very basic. But from the way it made the house smell while it baked, to smearing a slice with butter while it was still warm from the oven, banana bread is one of those foods that I can't help but find delight in. I am the complete opposite of my mom in the kitchen however, and thankfully my hubby is game for all of my experimenting in the kitchen. This black sesame chocolate banana bread is the result of my most recent kitchen adventure and let me tell you, it knocks the socks off of any other banana bread we have ever eaten!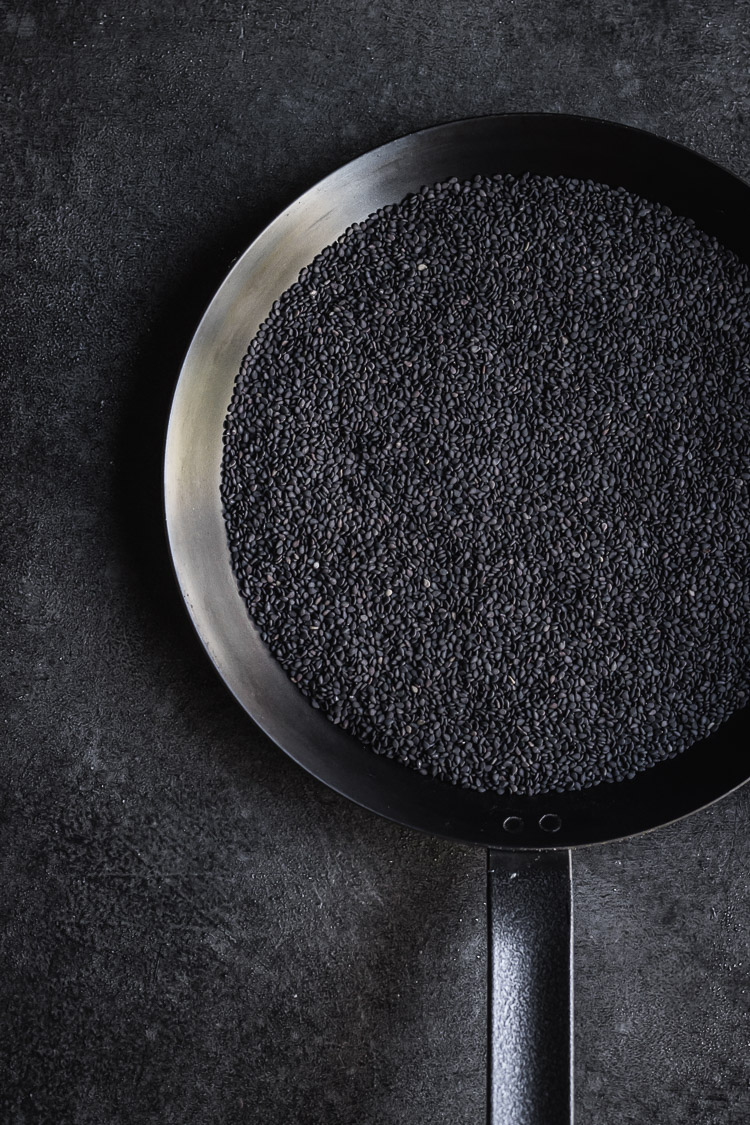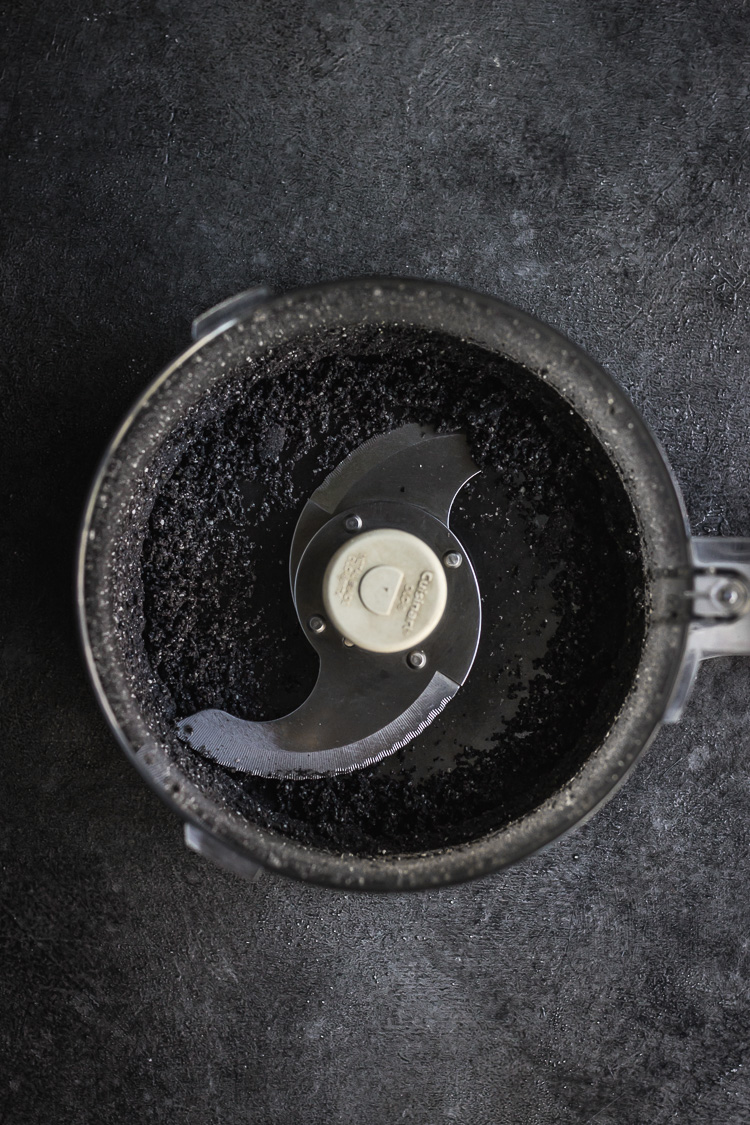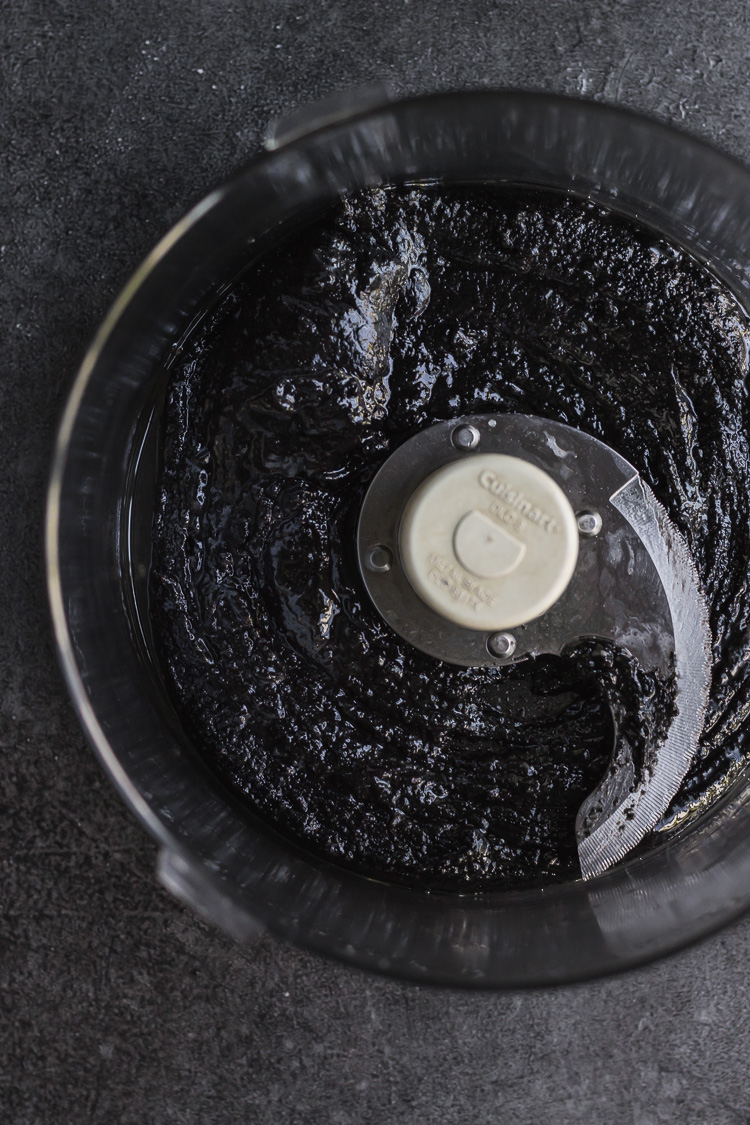 This is not the first time I've used black sesame in a baked good (see these mini bundt cakes) and it will not be the last. Black sesame has a rich, nutty flavor that is deeper than its white relative – and its signature flavor just happens to go really well in baked goods and desserts. For this banana bread, toasted black sesame seeds get ground and blended with honey to create a smooth paste, similar to peanut butter in texture.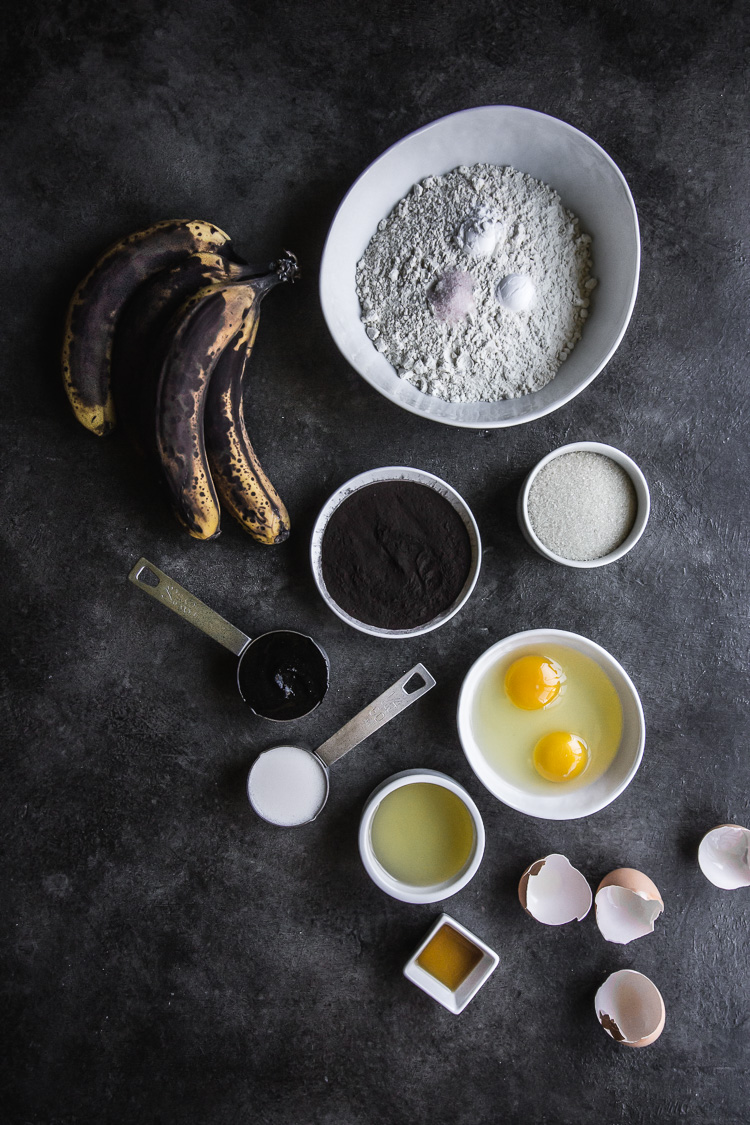 Although the black sesame paste is totally black in color, it will not yield a black colored bread, the result would be more of a gray color. I really wanted this banana bread to be black, so taking note from my past baking experiments, I turned to black cocoa powder, not just to add its signature black color to the bread, but also its deep chocolate flavor.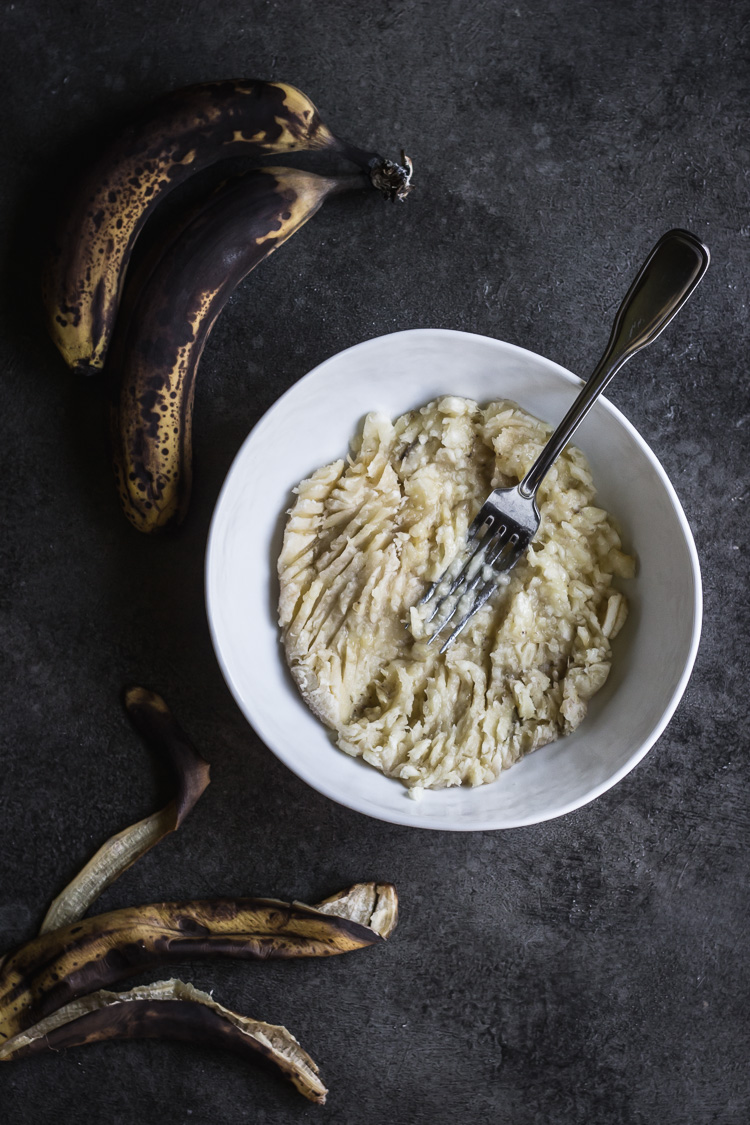 This recipe calls for a limited amount of sweetener, but it has just the right balance of sweetness from the honey in the black sesame paste, the sugar and the ripe bananas. Make sure you use super ripe bananas as they will have a higher sugar content then less ripe ones.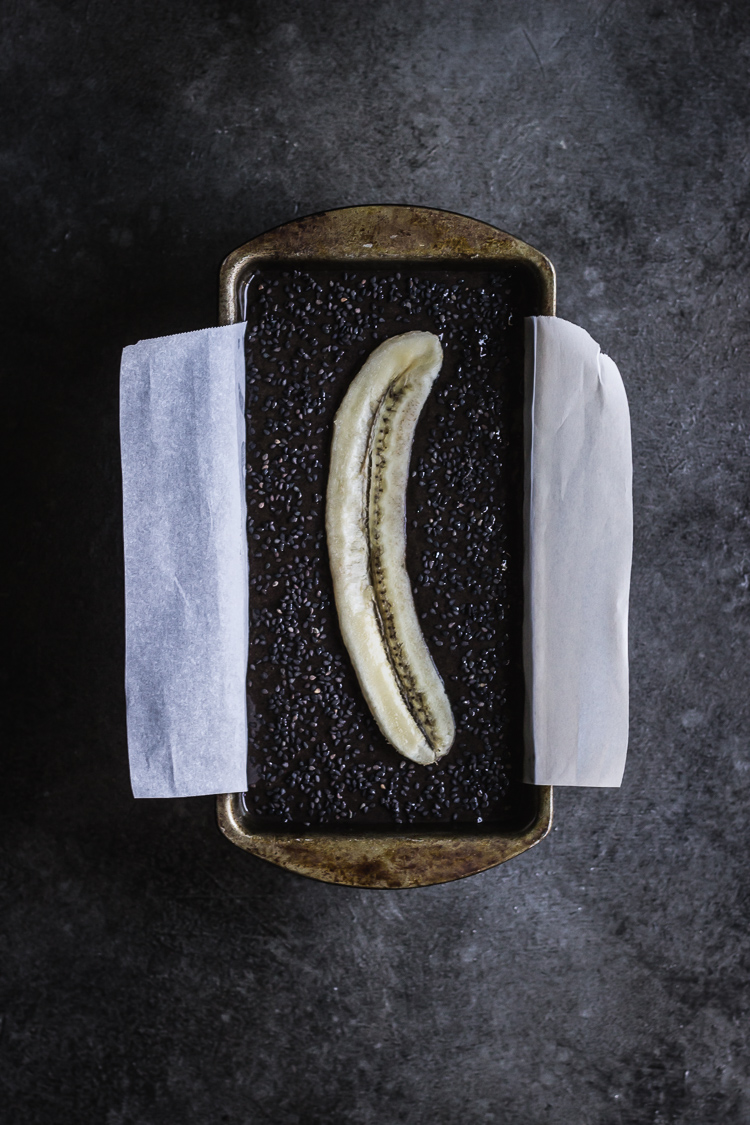 Our favorite part of this banana bread has got to be the topping. The banana bread batter gets topped off of with a generous sprinkling of black sesame seeds, half of a banana and a final dusting of sugar that all bakes up and caramelizes in the most wonderful way.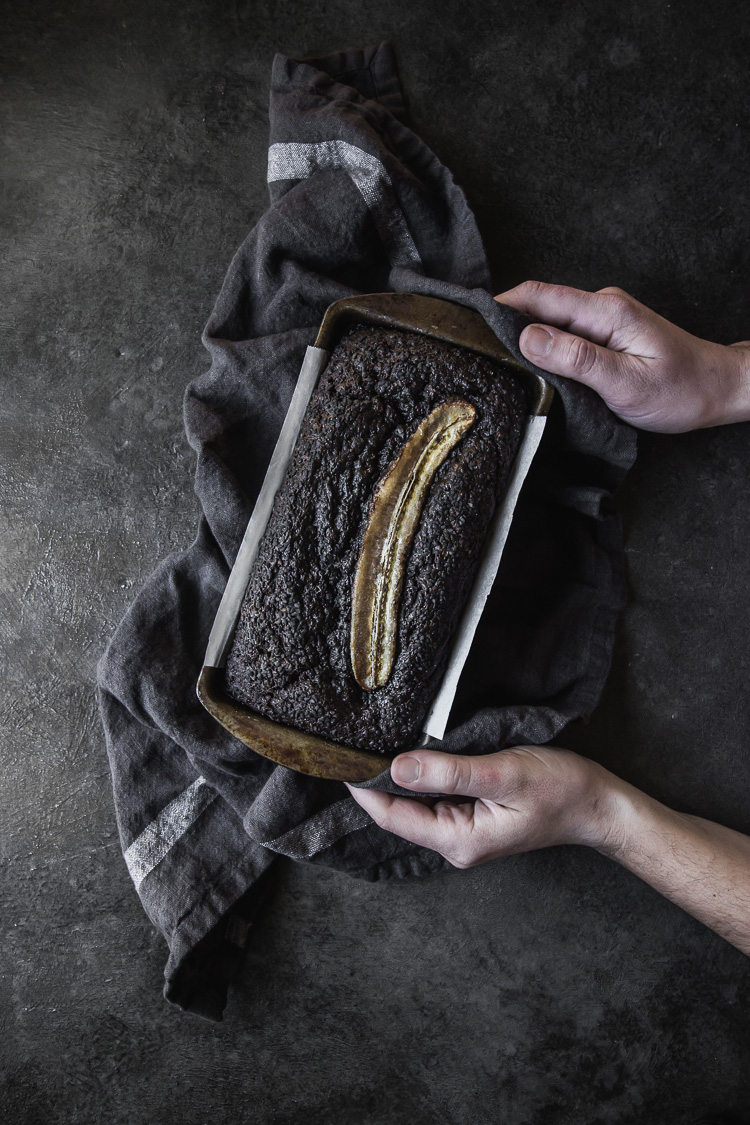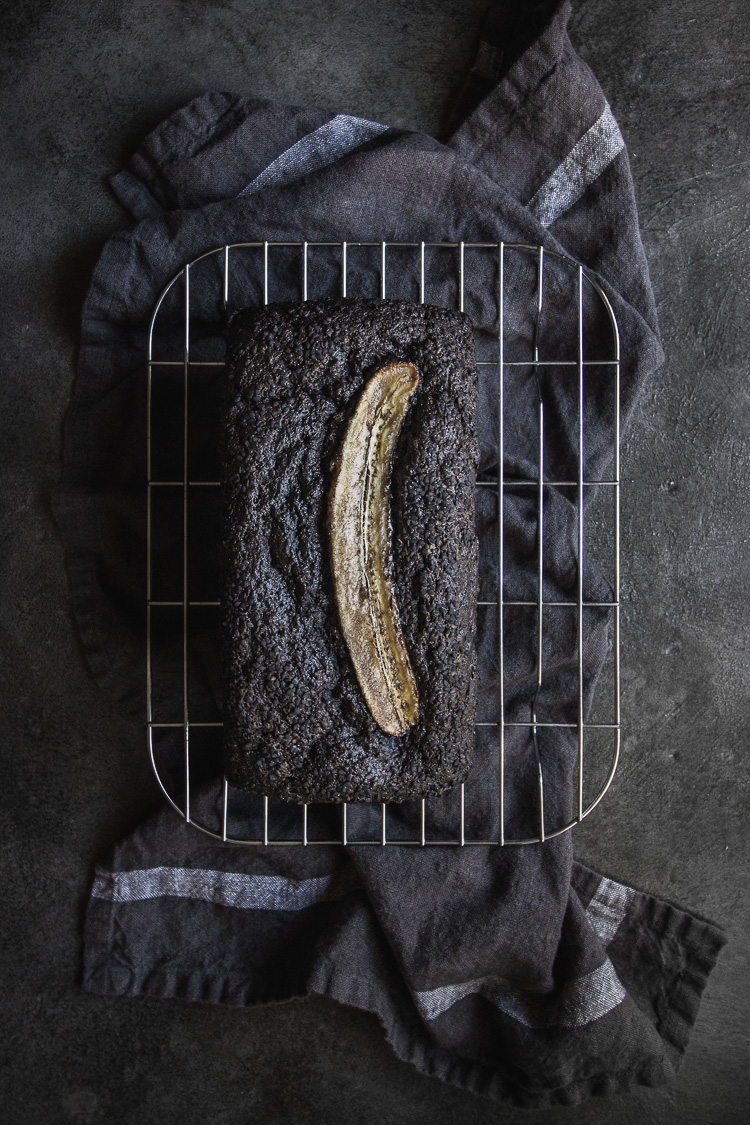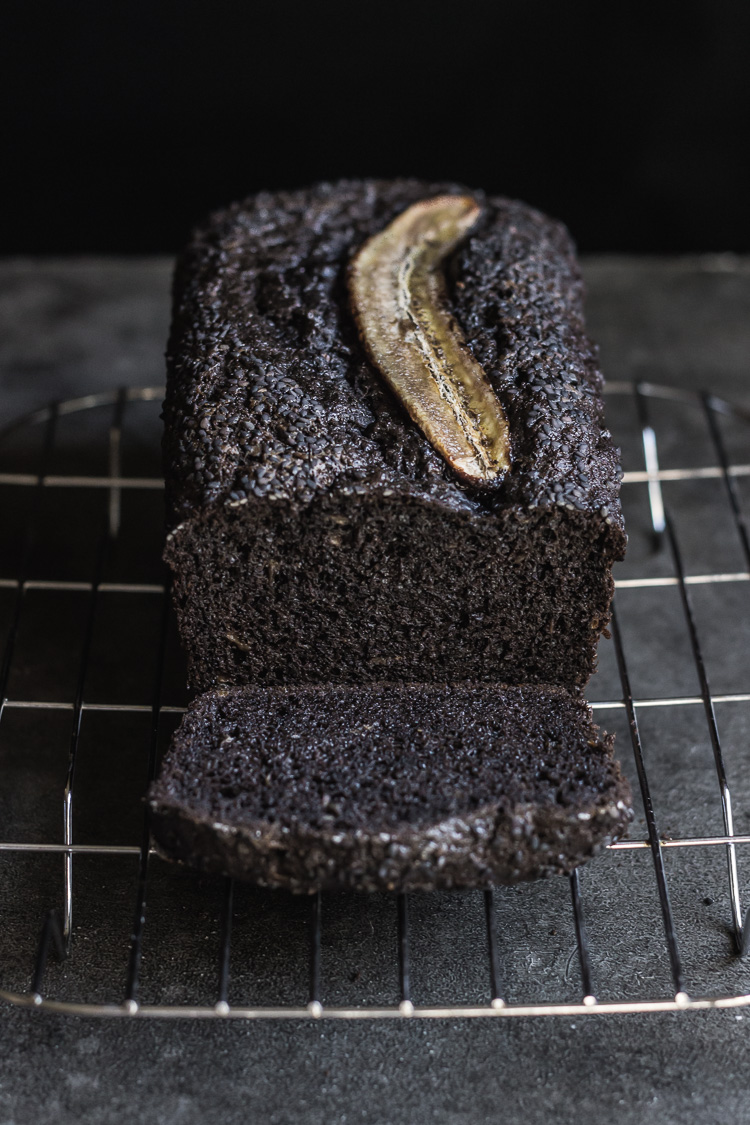 The flavor of black sesame seeds is totally meant to be with banana bread and the black cocoa lends the bread richness in both color and flavor. My hubby is very enthusiastic about food in general, often declaring each new creation from our kitchen as his ultimate favorite, but this black sesame chocolate banana bread won him over. He absolutely loved it and could not get enough, and to be honest, I felt exactly the same way – it really is the best banana bread either of us have ever eaten. The texture is perfectly moist and tender. The crunch of the black sesame seeds provide just the right amount of contrast and that banana on top is like a sweet little surprise, we love to save that bite for last ;)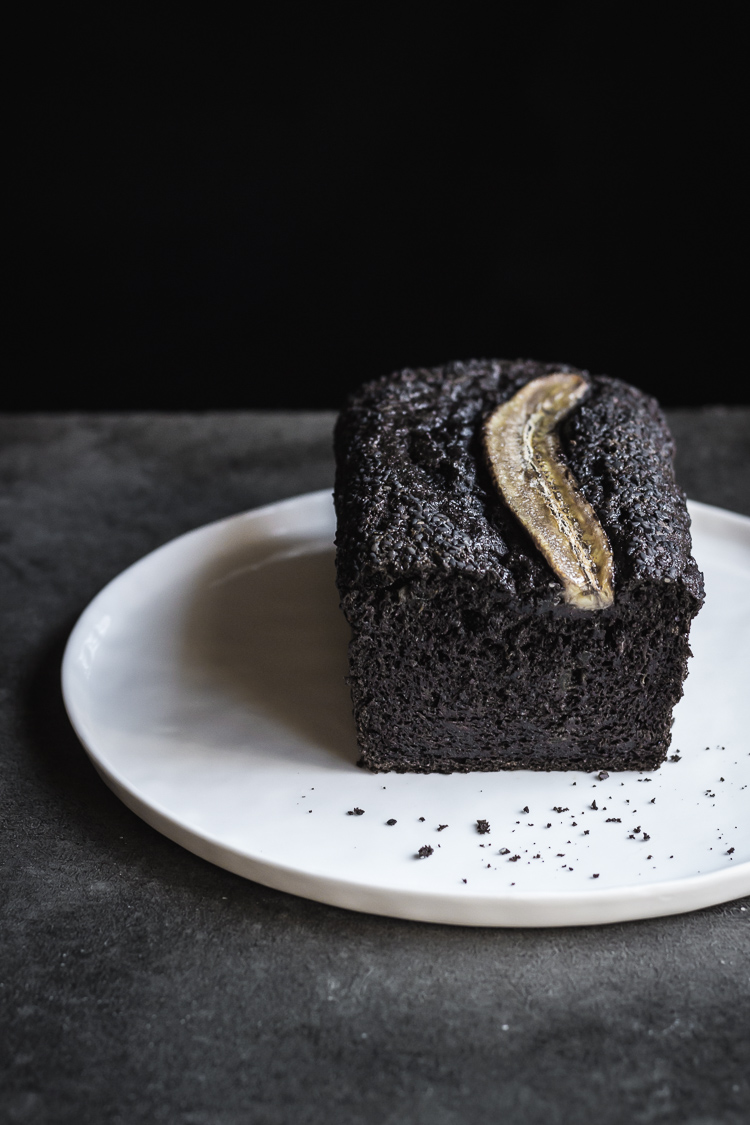 If you needed any more convincing to make this black sesame chocolate banana bread, it just happens to be dairy free and nut free too (but tastes wonderfully nutty thanks to the toasted black sesame seeds)
Print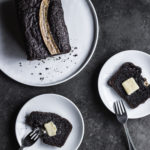 BLACK SESAME CHOCOLATE BANANA BREAD
---
Total Time:

1 hour 20 minutes

Yield:

1

loaf (approx. 12 slices)

1

x
FOR THE BANANA BREAD:
1 1/2

cups

flour (I used einkorn)

1/4

cup

black cocoa powder

3/4 tsp

baking powder

1/2 tsp

baking soda

1/2 tsp

salt

2

eggs

1/2

cup

sugar (unrefined sugars works well) + 1 tbsp reserved

1/3

cup

black sesame paste (see below)

1 1/2

cups

mashed bananas (4-5 bananas) + 1/2 banana for top of bread

1/2

cup

neutral oil (I used avocado oil)

1/4

cup

non-dairy milk + 1 tsp lemon juice or vinegar (or use buttermilk)

3 tbsp

toasted black sesame seeds, divided

1 tbsp

vanilla
BLACK SESAME PASTE:
---
Instructions
FOR THE BLACK SESAME PASTE:
Put toasted black sesame seeds in a food processor & process until almost all the seeds have been ground into a powder
Add honey to the black sesame powder & continue to process until mixture turns into a thick paste
(this will make more paste than you need for the recipe, store remaining paste in a glass jar at room temperature)
FOR THE BANANA BREAD
Pre-heat your oven to 350F degrees
In a bowl, whisk the flour, black cocoa powder, baking powder, baking soda & salt together until well combined
In the bowl of a stand mixer, beat the eggs & sugar together until light, add the black sesame paste & continue to beat until well combined
Mash the bananas with with a fork until smooth & add to the bowl of the stand mixer along with the oil, milk & vanilla – mix until well combined
Add the dry ingredients into the wet in three additions, mixing in between additions – once batter is just blended together, add in 2 tbsp black sesame seeds and mix to incorporate the seeds into the batter
Lightly grease a 9″x5″ metal baking pan & line it with a sheet of parchment paper
Pour the batter into the baking pan, top with remaining 1 tbsp sesame seeds, the banana slice & then sprinkle the whole thing with 1 tbsp sugar
Bake in the center of your oven for 60-70 minutes, until…
Let the bread cool in the pan for 10 minutes and then lift the bread by the parchment and onto a cooling rack to rest & cool for at least another 10 minutes before slicing
Serve warm from the oven with a pad of butter (our personal favorite) and re-warm any leftovers the next day for ultimate eating pleasure ;)
Prep Time:

0 hours

Cook Time:

0 hours