Living in an older neighborhood, we are surrounded by so many different types of edible plants and fruit bearing trees. Our neighborhood was first settled in the 1860's by railroad workers, most of them immigrants from Greece, Italy and Mexico. As you explore the streets and alleys in this historic neighborhood of Roseville, California, you discover much of the landscape originally planted by these immigrants was inspired by their homelands. From citrus and pomegranate trees, to loquats and cactus, our neighborhood is like a cornucopia of edible plants and fruit bearing trees. The one edible from our neighborhood that has intrigued us the most this year is cactus. Cactus paddles, known as nopales (no-PAH-les) in Spanish, are an amazing vegetable. Once you work your way past the thorns, you are rewarded with a delicious food that is so worth the effort. And when you turn your cactus harvest into nopales and roasted corn tacos, you will understand why we have fallen so hard for cactus.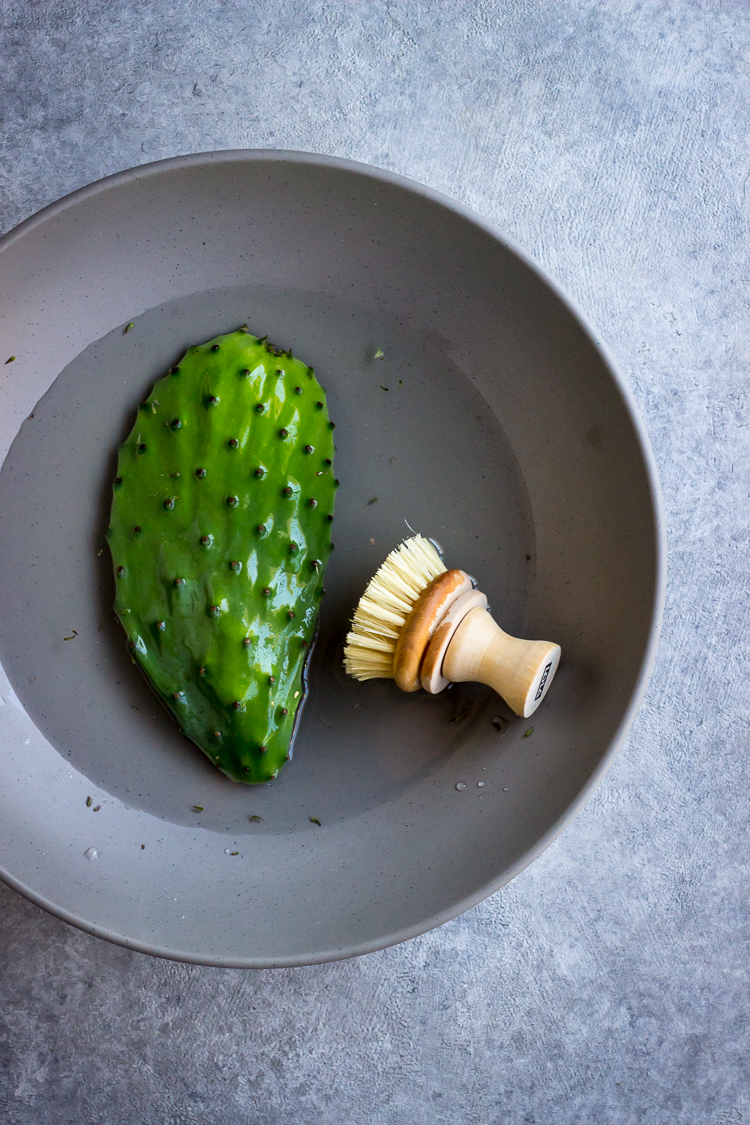 Cactus paddles should be harvested when they are young and about 5-7 inches in length. In our climate, cactus plants produce new paddles in the spring, early summer, and fall. We harvest them by holding a paddle with a pair of metal tongs in one hand, while with your other hand you slice the paddle from the plant with a small knife and then put the harvested paddle into a bucket. Once you are done harvesting all the paddles you will need, you want to scrub them under water with a firm bristled brush. Wearing a glove on the hand you are holding the paddle with to prevent yourself from getting any thorns in your fingers.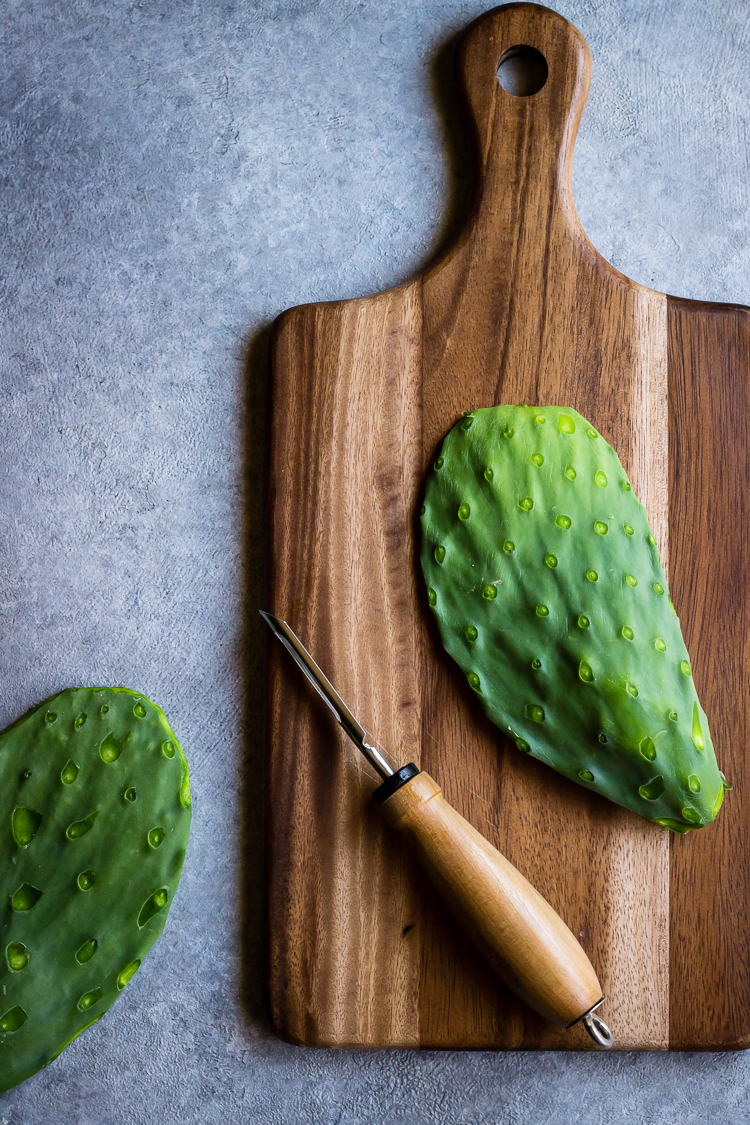 Once all of the paddles are thoroughly scrubbed, we use a vegetable peeler to remove the bumps that once held the thorns from the body and edges of the paddles.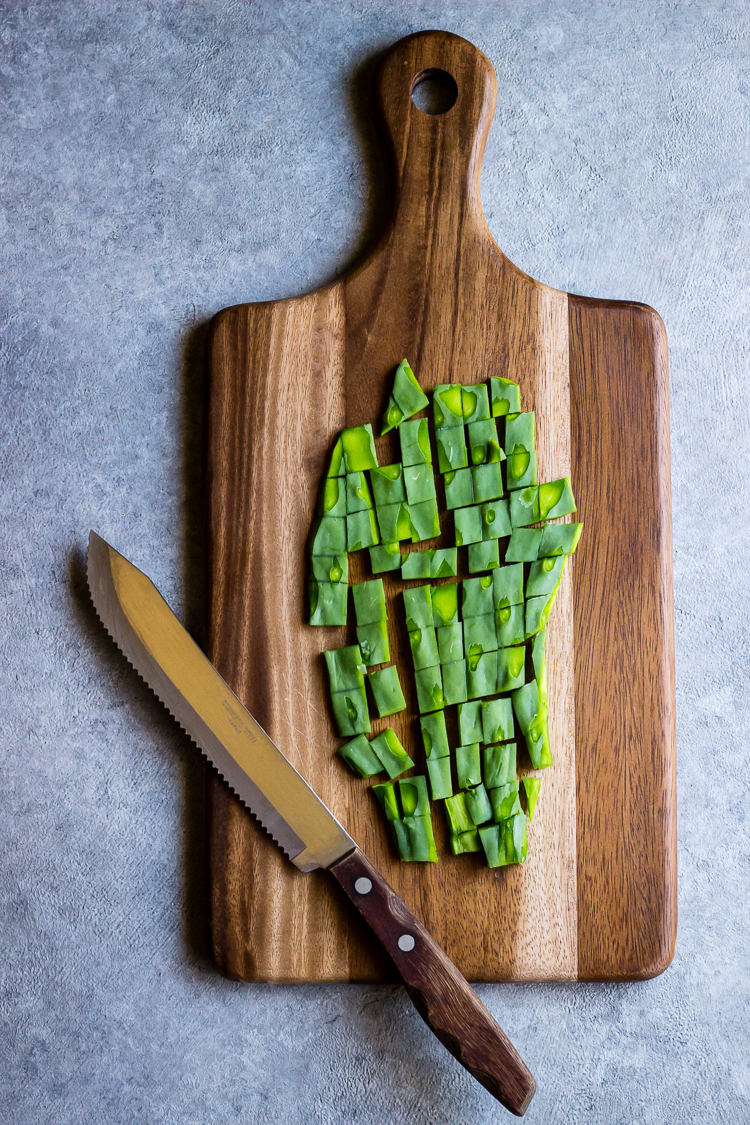 Next, the paddles get diced into approximately 1/2″ by 1/2″ pieces.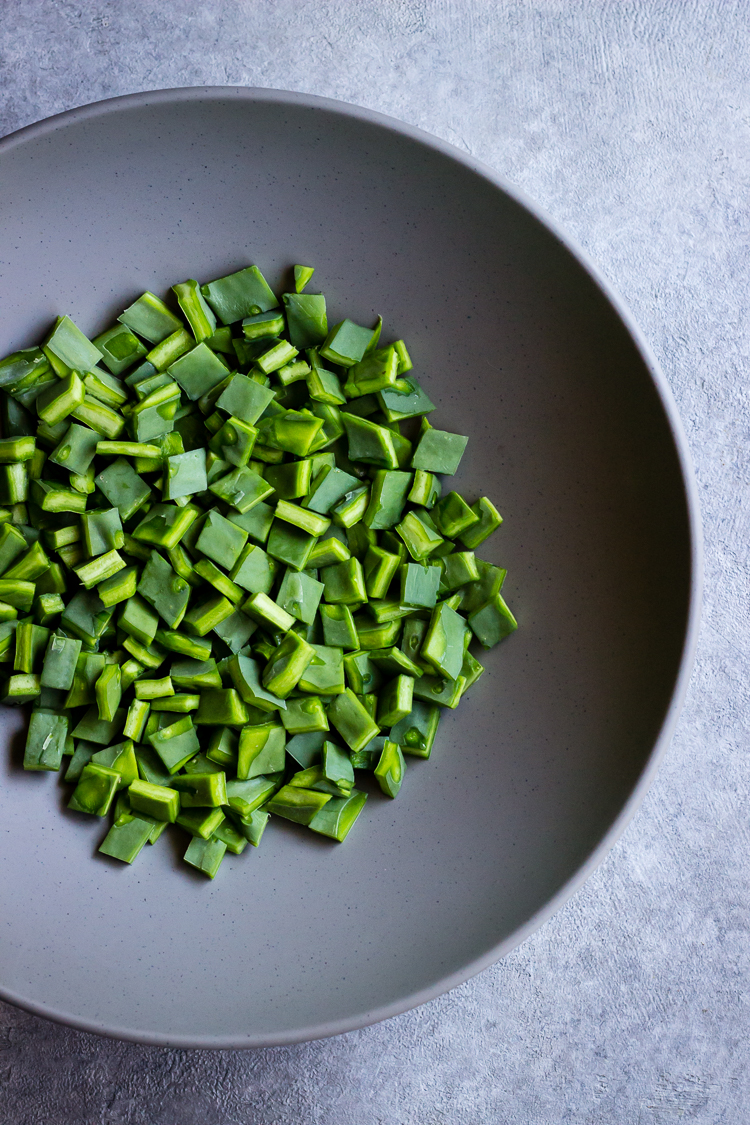 Once all the paddles have been cleaned and diced, they get boiled in salted water for 5 minutes and then placed onto paper towels to cool and dry.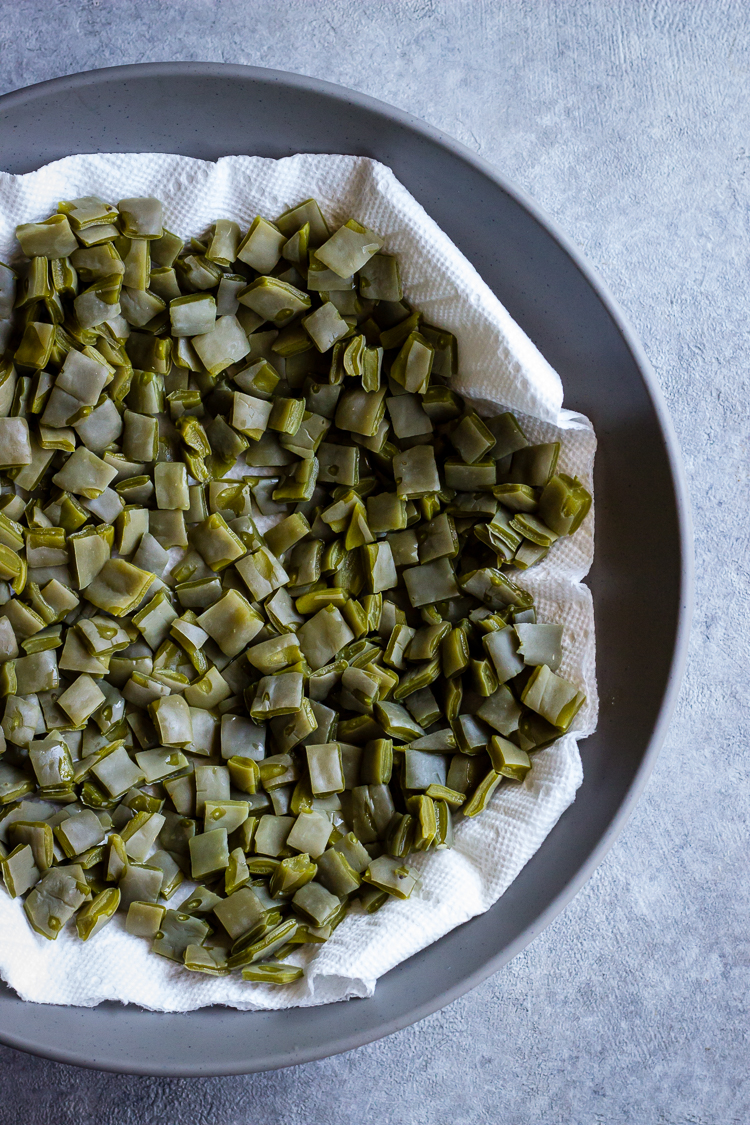 Now that the nopales are cooked, we combine them with thinly sliced onion, a diced jalapeño or serrano pepper, fresh cilantro leaves and a pinch of salt.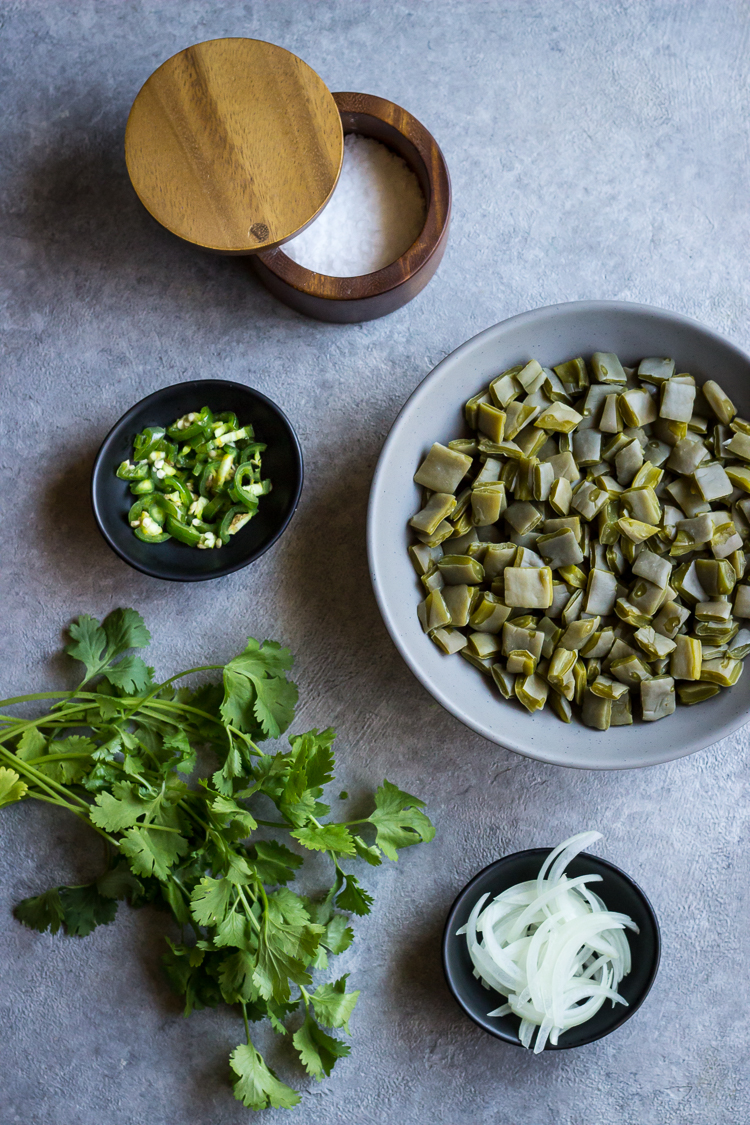 At this stage the nopales are ready to be added to whatever recipe you are using them for. Nopales have a light, slightly tart flavor and are similar to green beans in texture. You can add tomatoes and a light dressing for a delicious cold salad or you can scramble this mixture into some eggs for breakfast.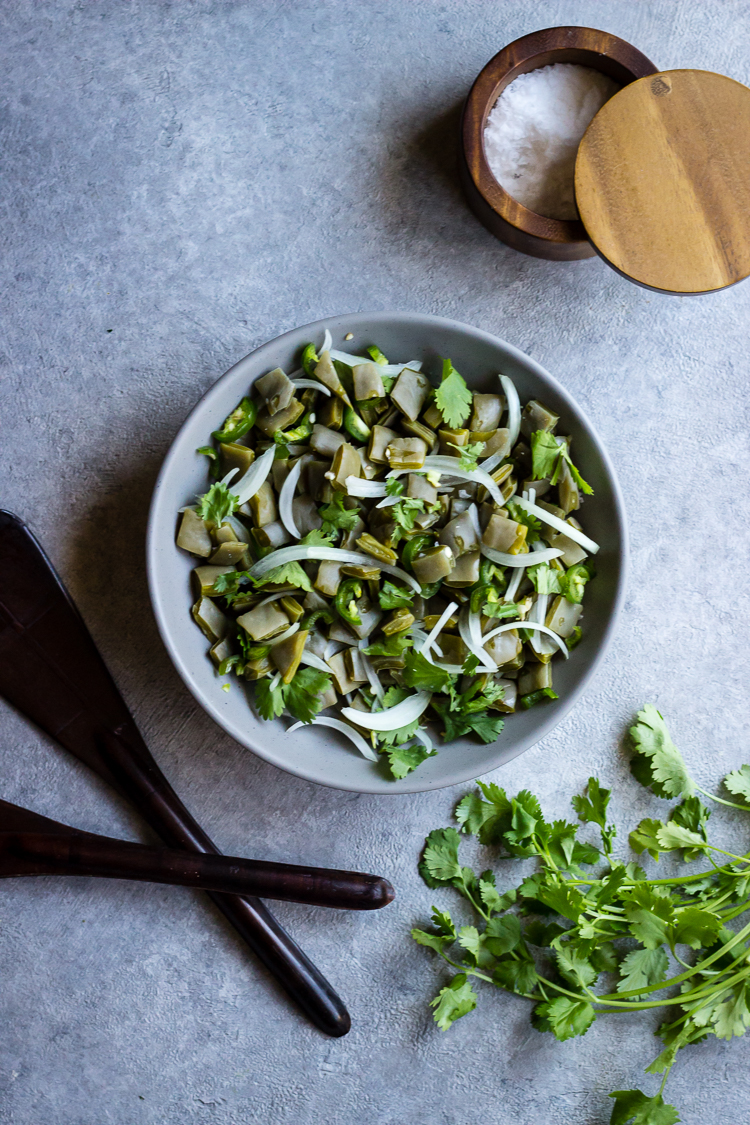 Our favorite way to eat cactus is as nopales and roasted corn tacos. You can fire roast fresh ears of corn over a grill or you can find bags of fire roasted corn in the freezer section at your local Trader Joe's. Either way, the fire roasted flavor is absolutely necessary for this recipe, it gives the tacos a depth of flavor and smokiness that plain corn just can't provide.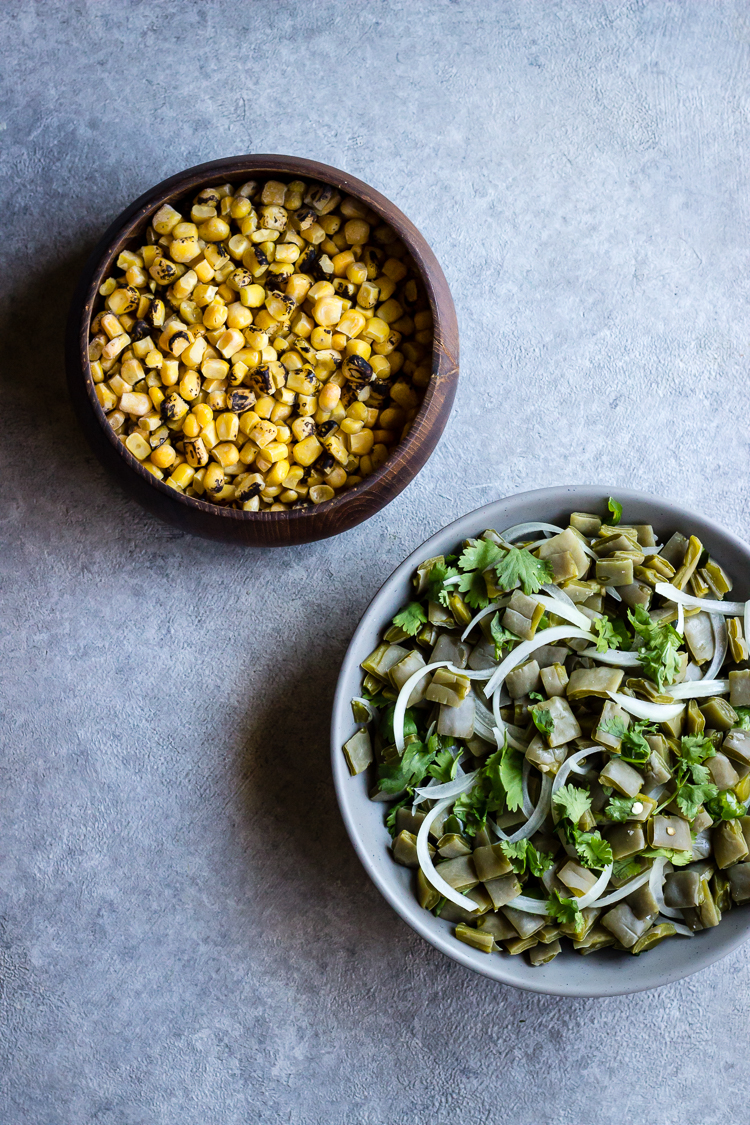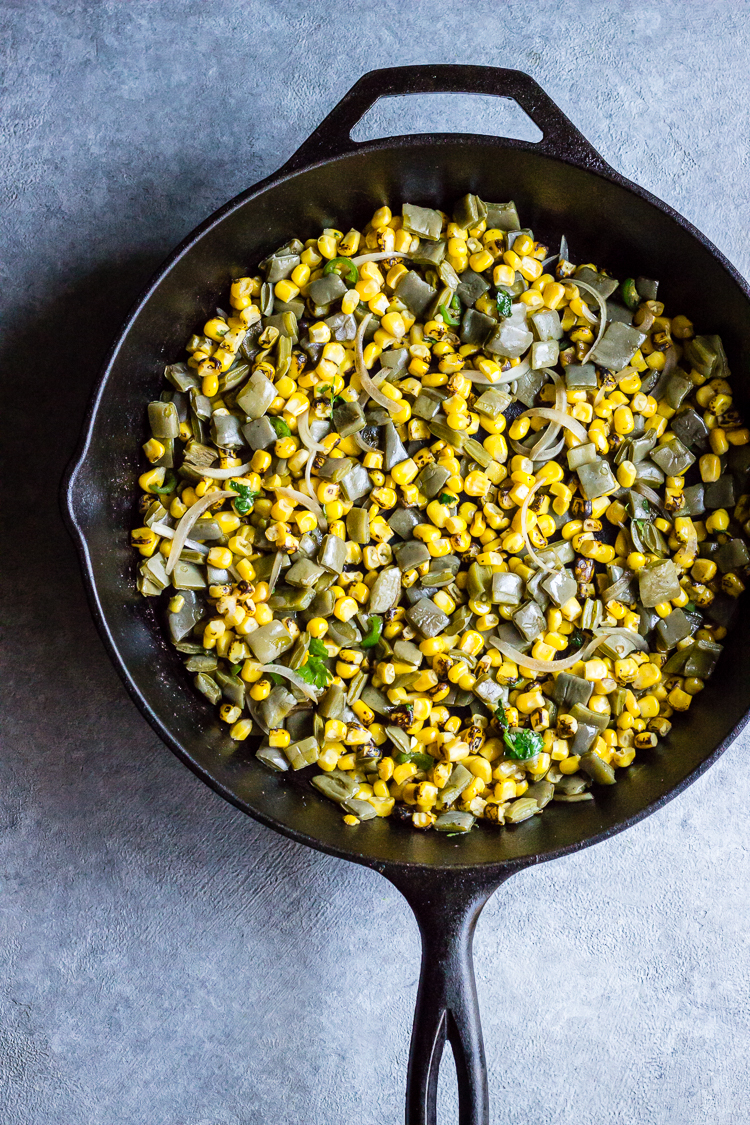 Harvesting the cactus paddles and going through the steps to prepare them makes these tacos even more special to us. There is something that is deeply satisfying about the process of taking part in a tradition that people have been undertaking for thousands of years. You feel a connection to less complicated times, when life typically revolved around preparing food for your family. If you don't have access to cactus plants to harvest paddles yourself, you should be able to find them at grocery store in the produce section or at a Mexican supermarket.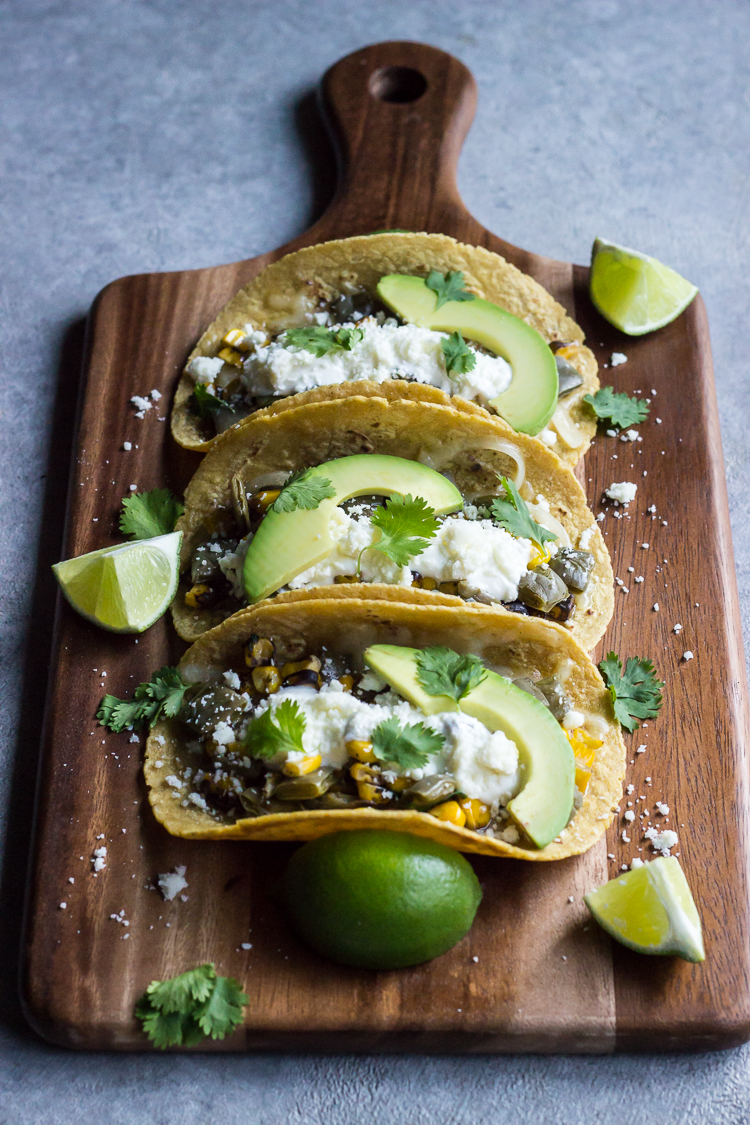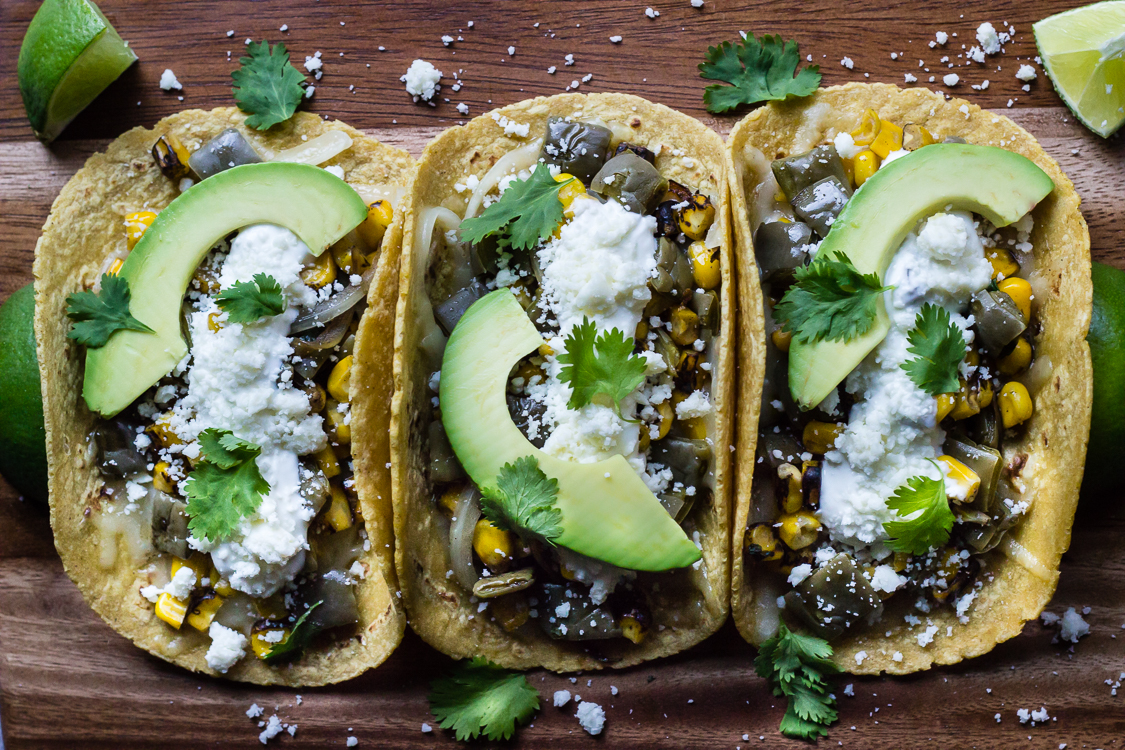 Warm corn tortillas topped with shredded cheese, nopales and roasted corn, a drizzle of lime crema, crumbled cotija cheese, a slice of avocado, fresh cilantro leaves and a squeeze of lime – these nopales and roasted corn tacos are absolutely one of the best things to come out of our kitchen this year.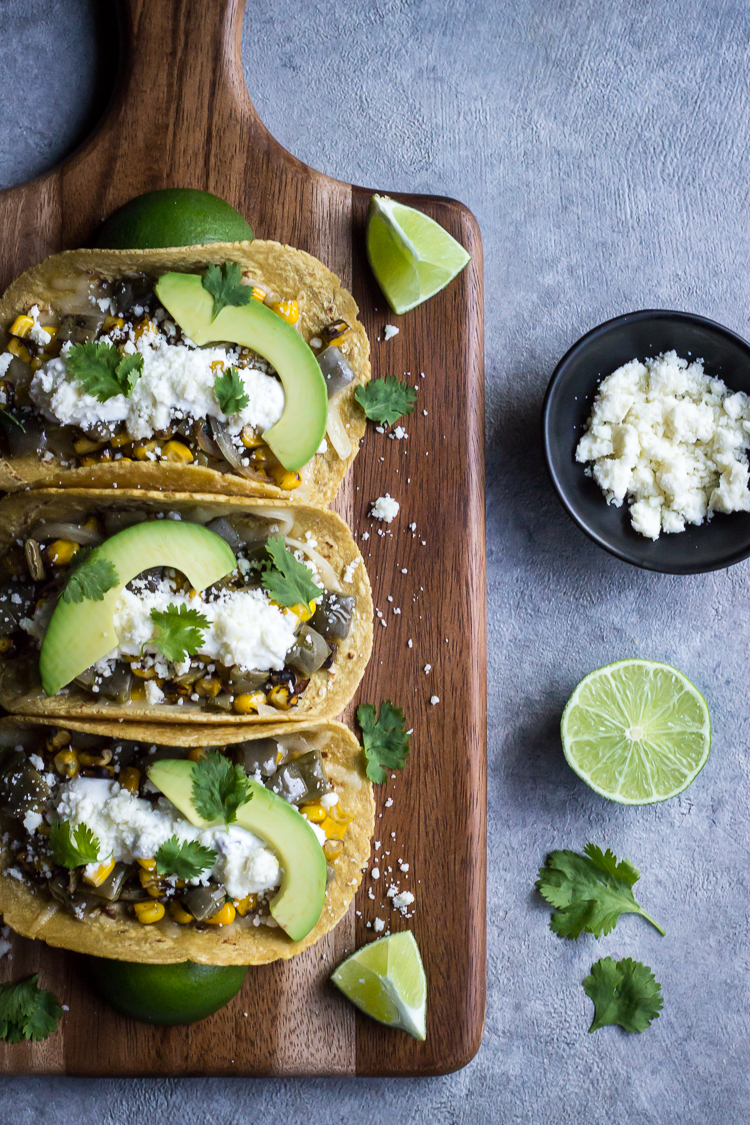 Print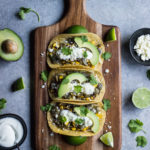 NOPALES and ROASTED CORN TACOS
---
Total Time:

1 hour 10 minutes

Yield:

approx

8

-

10

tacos

1

x
FOR THE NOPALES SALAD:
4

cactus paddles (

5

–

7

inches in length) – cleaned, diced & prepared (as explained above)

1/4

yellow onion, thinly sliced

1

jalapeño or serrano pepper, diced

1/4

cup

fresh cilantro leaves
flaky salt to taste
FOR THE TACOS:
1 1/2

cups

(8 ounces) fire roasted corn kernels (thawed to room temperature if using frozen)

1 tbsp

neutral cooking oil (we use avocado oil)

8

–

10

corn tortillas

1

cup

shredded jack or cheddar cheese

1/2

cup

sour cream mixed with juice of 1/2 lime

1

avocado, cut into slices
crumbled cotija cheese
fresh cilantro leaves & lime wedges for serving
---
Instructions
Add boiled, cooled & dried cactus with sliced onion, jalapeño or serrano pepper, cilantro leaves & salt to a medium bowl & toss to combine
Heat a large cast iron skillet with 1 tbsp cooking oil over medium high heat. Add nopales salad to the skillet and cook for a few minutes until mixture is warmed through & just beginning to brown
Add roasted corn to the skillet & cook with the nopales for a few minutes until heated through – turn off heat & leave skillet on the stovetop to stay warm while you prepare the tacos
Warm a lightly greased griddle over medium heat, once hot, add a few corn tortillas to the griddle & cook for 2-3 minutes. Add a small handful of shredded cheese to each tortilla while still on the griddle
Fill with each tortilla with the nopales & roasted corn mixture, using about 1/3 cup of filling per taco (use more or less depending on the size of your tortillas)
Remove filled tortillas from griddle and put on plates to serve. To each taco add 1 tbsp of the lime crema, a slice or two of avocado, crumbled cotija cheese & fresh cilantro leaves
Serve tacos with lime wedges
Prep Time:

0 hours

Cook Time:

0 hours