Nothing quite compares to a cinnamon roll fresh out of the oven in all of its sweet, gooey, cinnamony glory.  I am one of those people that is very particular about their cinnamon rolls. They must be super soft & tender, like to the point where they almost melt in your mouth. And because there are so many recipes for cinnamon rolls in the world,  I wanted to develop a recipe that had everything I love about a perfect cinnamon roll with the addition of some of my very favorite flavors. Which led me to create these maple chai buttermilk rolls and let me tell you, they are the dreamiest!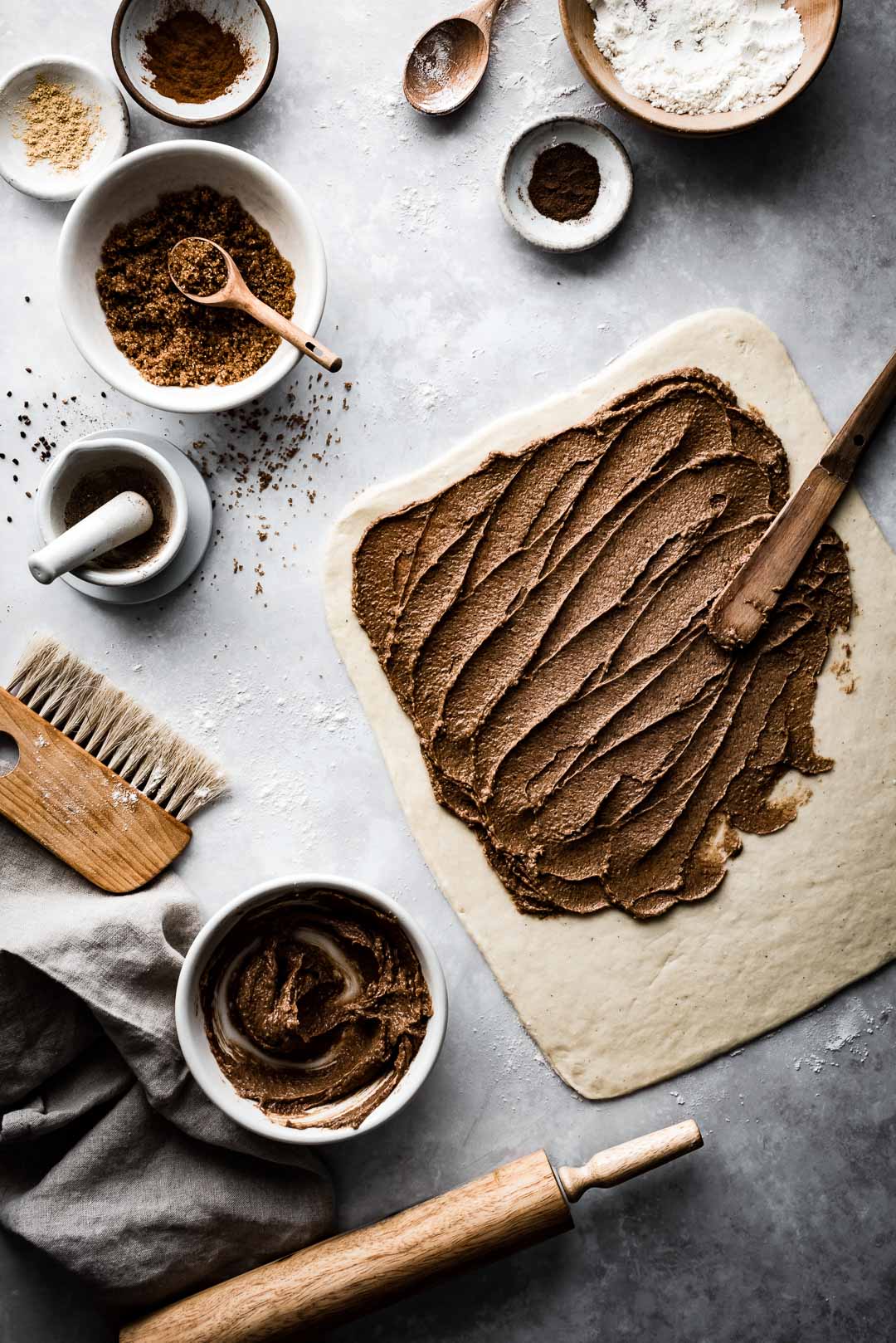 what makes these rolls so great:
MAPLE: good old maple syrup – it's the natural sweetener that never goes out of style. Maple's sweet, distinctive flavor has hints of caramel with overtones of toffee and is uniquely different from any other natural liquid sweetener.
CHAI: This rich, spicy tea is traditionally made with black tea, star anise, cloves, allspice, cinnamon, white peppercorns, cardamom, whole milk, and sugar. Reading those ingredients should have you thinking that it was made to be infused into cinnamon rolls, am I right!?!
BUTTERMILK: I am obsessed with buttermilk. It is great for baking because it adds a pleasant tang to cakes, bread, biscuits, and rolls while adding very little fat. Similar to yogurt and sour cream, buttermilk's acidity helps tenderize gluten, lending baked goods a softer texture and more body.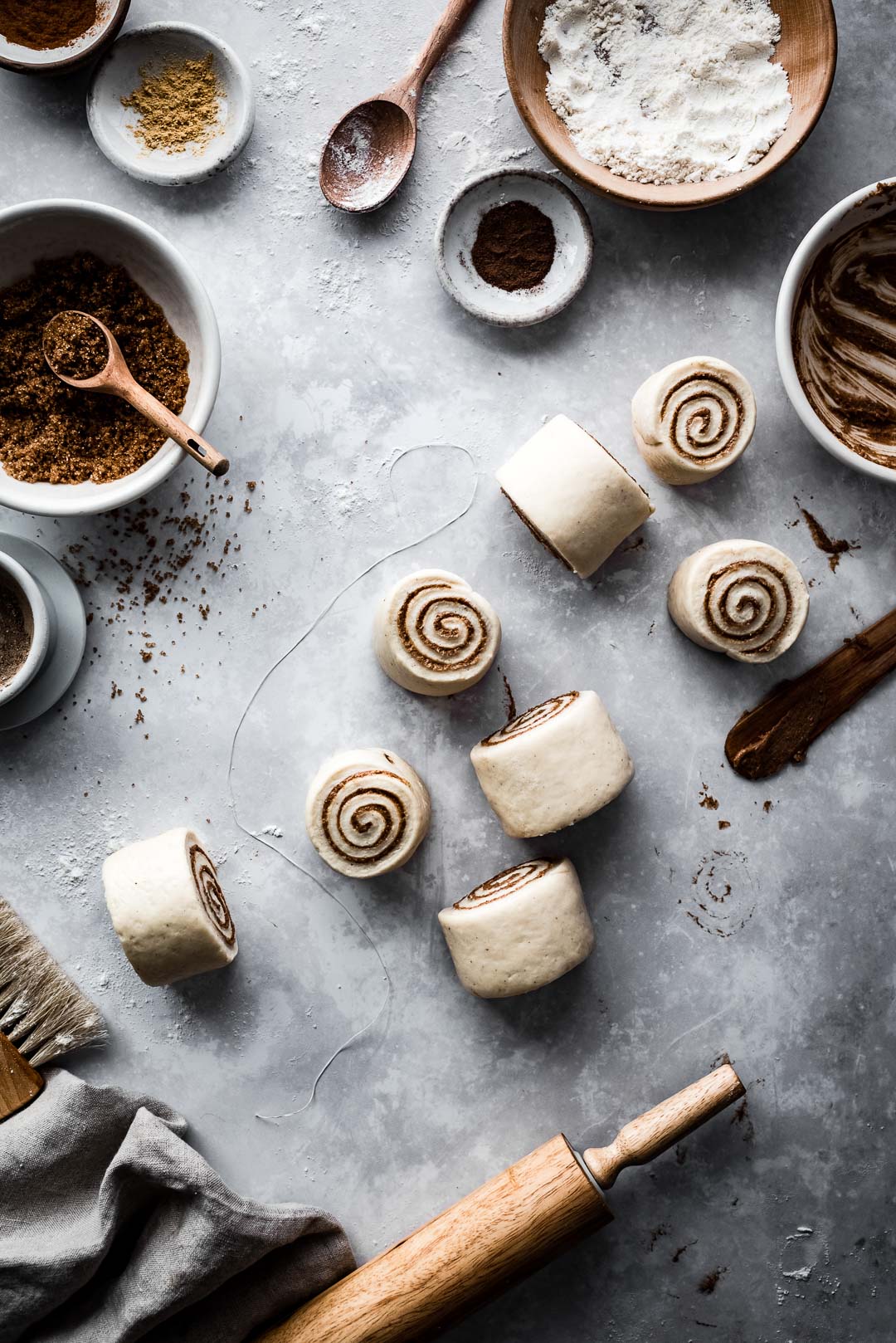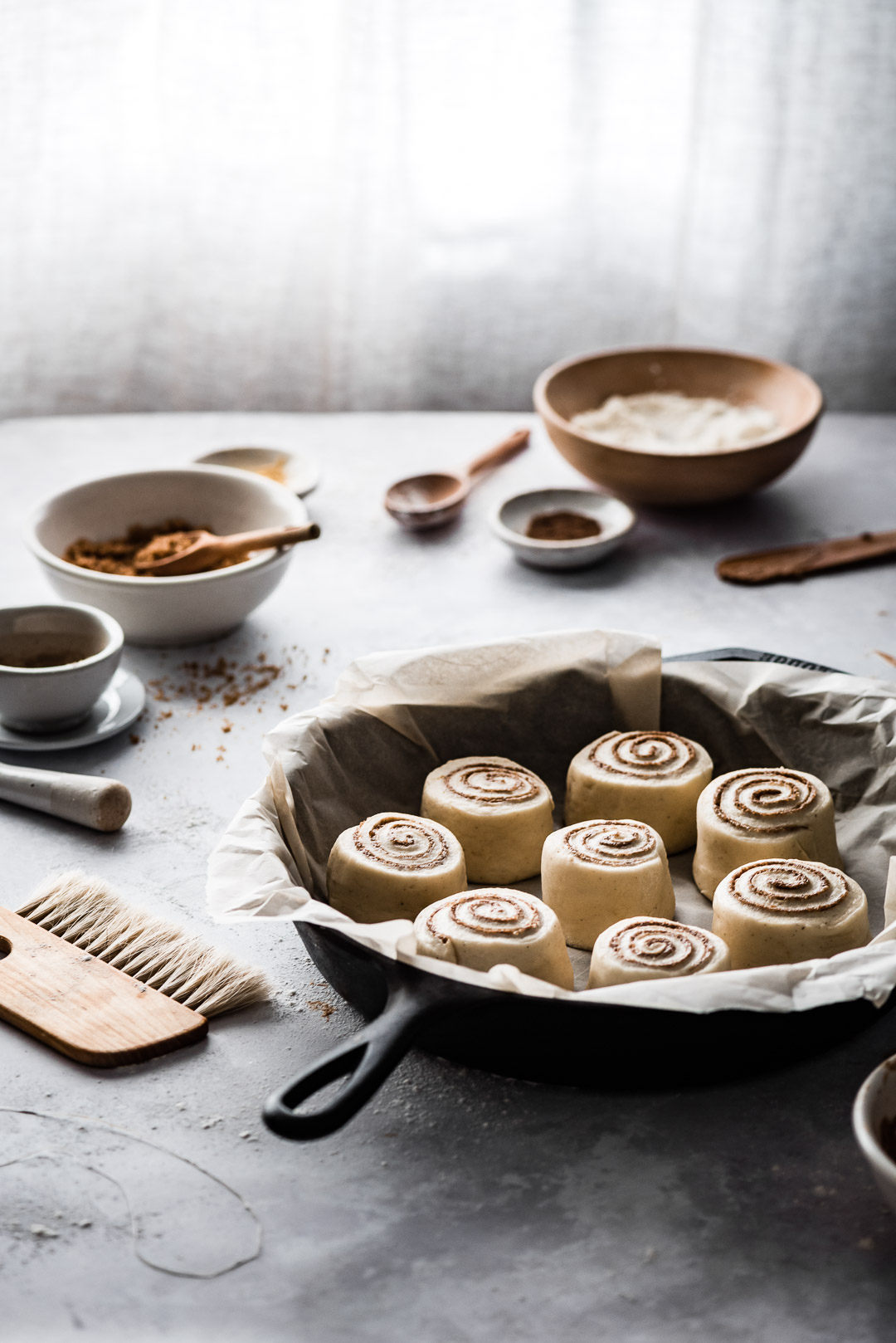 the softest rolls in all the land:
These maple chai buttermilk rolls have that soft, supple, everything you hope for in a cinnamon roll texture. The greatest thing about the dough is that it can be made the night before & left to rest in the refrigerator overnight which means you get to wake up to fresh maple chai buttermilk rolls for breakfast – well, almost! Someone does have to finish the process & bake them, but you get the point ;)
The flavors of the maple, chai, and buttermilk make these rolls different from traditional cinnamon rolls in all the right ways without veering too far from what makes cinnamon rolls so special. And the glaze that gets spooned over the top of the hot rolls when they emerge from the oven is the perfect final touch that adds just the right amount sweetness & an extra boost of maple chai buttermilk flavor.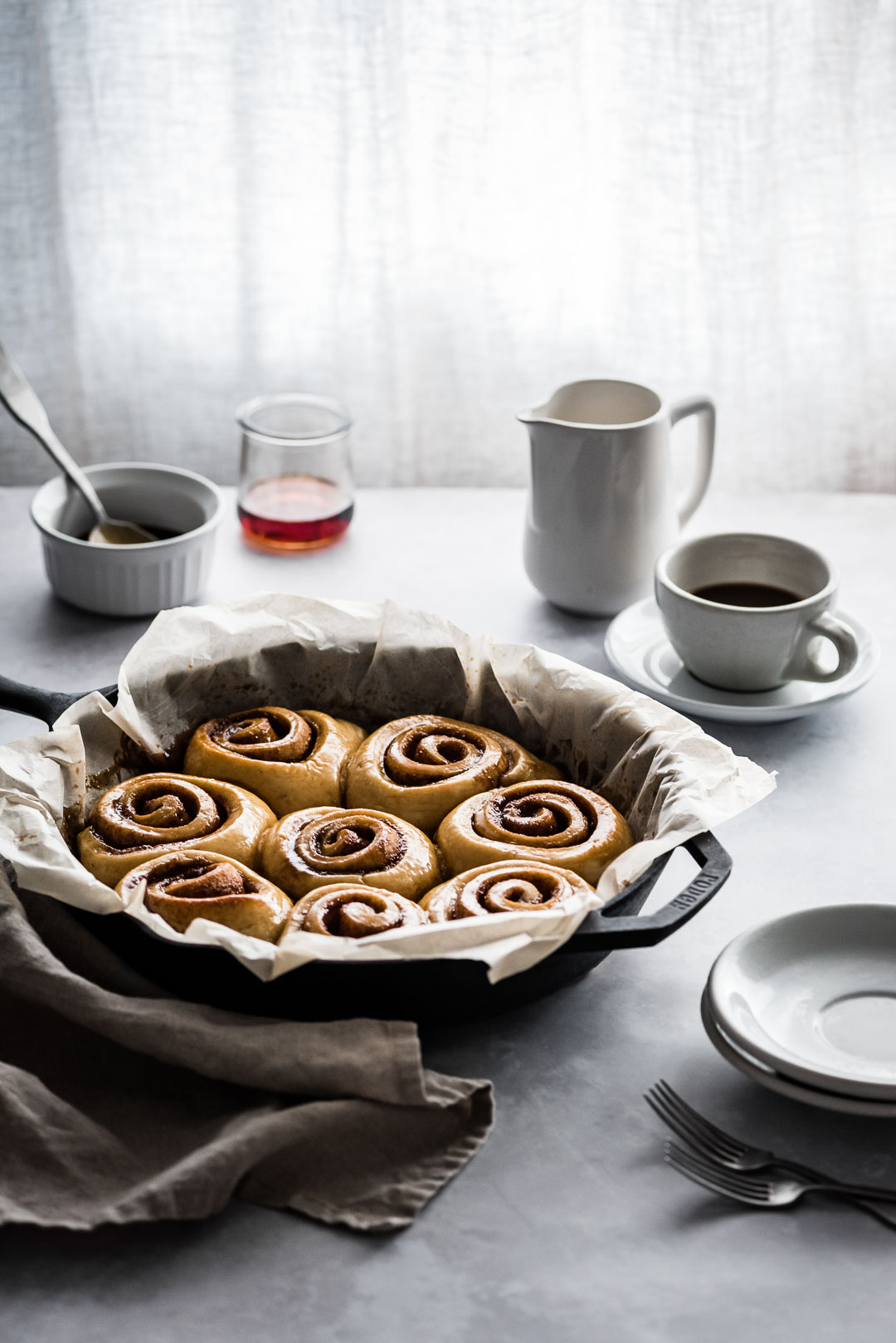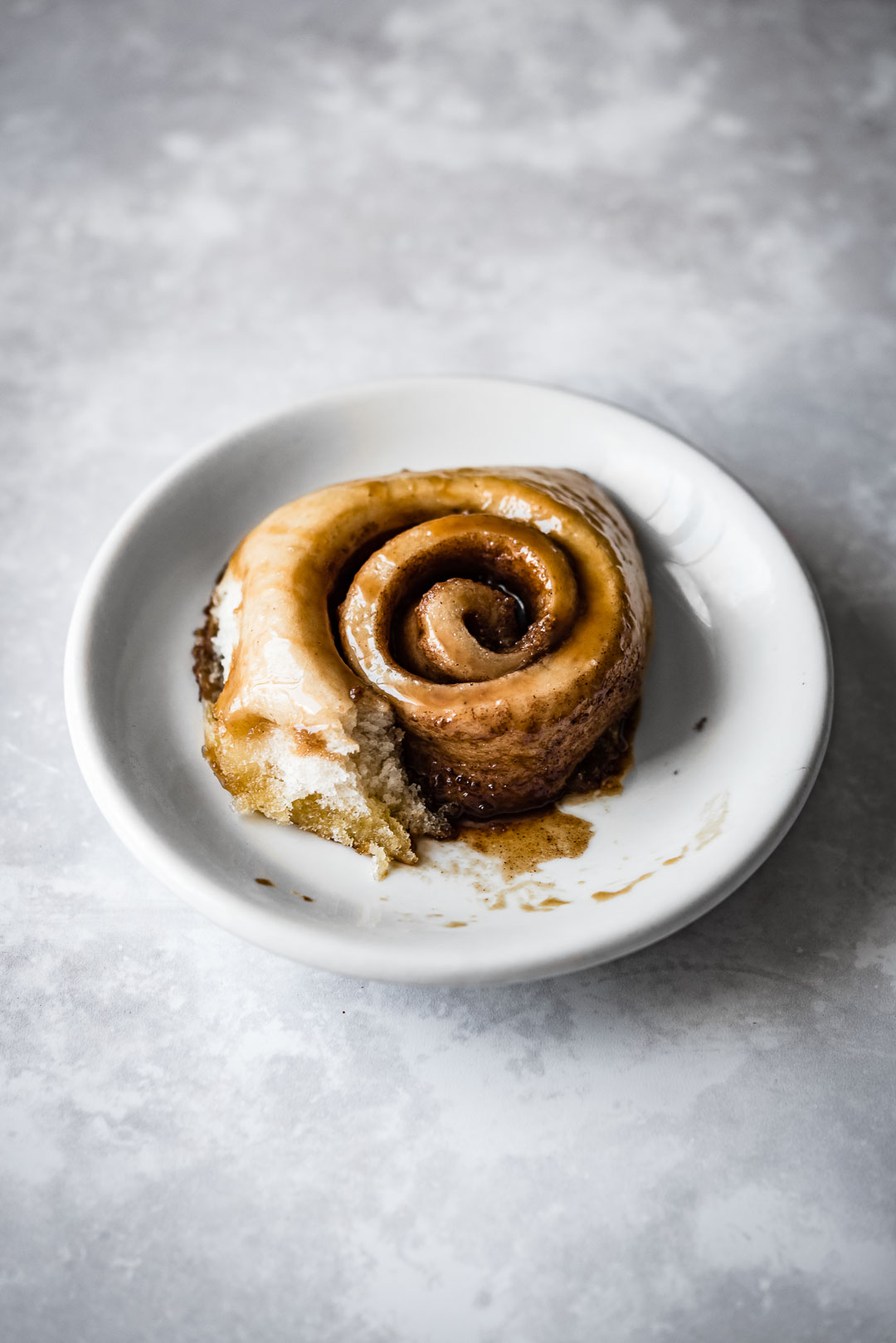 some quick tips:
I like to bake these rolls in a parchment lined cast iron skillet. The skillet retains a lot of heat once removed from the oven. If you are not planning on serving the rolls immediately, lift them out of the skillet by the parchment paper and allow to cool at room temperature. 
I used a chai tea concentrate for the glaze, but you can substitute by steeping a bag of chai tea in 1/4 cup of water for 7 minutes (you will only use 2 tbsp of this for the glaze)
I highly recommend slicing the rolls with a piece of unwaxed dental floss for absolutely flawless cinnamon rolls. If you must use a knife, make sure to use a

MAPLE CHAI BUTTERMILK ROLLS

---

Total Time:

50 minutes

Yield:

4

people

1

x

FOR THE DOUGH:

1

cup

buttermilk (or substitute with non-dairy buttermilk *see note)

1/4

cup

palm shortening (or substitute with butter or non-dairy butter)

1/4

cup

sugar

1 tsp

vanilla extract or vanilla bean paste

1 tsp

active dry yeast

2

cups

all purpose flour + 1/4 cup reserved

1/2 tsp

baking powder

1/4 tsp

baking soda

1 tsp

fine grain salt

FOR THE FILLING:

2 tbsp

maple syrup

1/2

cup

unsalted butter, room temperature

1/2

cup

brown sugar (we use muscavado sugar)

1 tbsp

cinnamon

1 tsp

ground ginger

1/4 tsp

ground clove or all spice

1/4 tsp

cardamom
pinch of salt

FOR THE GLAZE:

1/4

cup

brown sugar (we use muscovado sugar)

2 tbsp

buttermilk (or non-dairy buttermilk *seen note)

4 tbsp

unsalted butter (or use non-dairy butter)

2 tbsp

maple syrup

2 tbsp

chai tea concentrate (*see note)

1/2 tsp

baking soda
pinch of fine grain salt

---

Instructions

FOR THE DOUGH:

Melt palm shortening in a pot over medium low heat. Once melted, whisk in sugar, and buttermilk.
Let liquid cool until warm, whisk in the vanilla, and sprinkle yeast over liquid and let sit 3 minutes.
Sift 2 cups of flour into the liquid & stir until just combined. Cover with a towel and let sit at room temperature for 1 hour.
Whisk together the remaining 1/2 cup of flour with the baking powder, baking soda & salt. Add this to the dough and mix thoroughly to combine. I use a large spatula to mix the dough at this point, you're looking to bring the dough together until it is relatively smooth, which takes just a couple of minutes of mixing.
Cover dough with plastic wrap & chill in the refrigerator for at least 8 hours or overnight.

FOR THE FILLING:

Combine softened butter, maple syrup, sugar, spices and salt in a small bowl & stir until smooth.

FOR THE ROLLS:

Remove chilled dough from refrigerator & place it on a light floured surface.
Roll the dough into a rectangle approx. 10″ wide by 14″ long and approximately 3/8″ thick.
Spread the filling evenly over the dough, leaving about 1/2″ edge exposed around the perimeter of the dough
Roll the dough into a spiral, starting at the edge furthest from you, taking care to keep the roll tight.
When you reach the end, pinch the seam together and flip the roll so that the seam is face down
Line a 12 cast iron skillet with parchment paper & preheat the oven to 350F degrees.
Use a 12″ piece of dental floss to cut the rolls into 8 portions – place the dental floss under the rolled dough, bring the floss up around the dough and cross it over the top, cutting through the dough and filling, set each portion into the parchment lined pan as you go
Let the rolls rise at room temperature while the oven pre-heats, about 20 minutes
Bake the rolls for 15-18 minutes until the dough is just barely beginning to brown

FOR THE GLAZE:

While the rolls are baking, make the glaze
In a medium saucepan, combine all of the glaze ingredients & cook over medium heat, stirring continuously until mixture has boiled for about 5 minutes. Remove from heat & reserve until rolls are done baking
Once rolls are done baking spoon the glaze over the rolls, making sure to coat every nook & cranny

Notes

*To make dairy free buttermilk: Combine 1 cup unsweetened plant-based milk with 1 tbsp of apple cider vinegar. Let sit for 5-7 minutes to "curdle".

Prep Time:

30 minutes

Cook Time:

20 minutes

Category:

Pastry

Cuisine:

American