If you have never had a keitt mango, now is the time to get your hands on one. These huge mangoes are deep green when ripe and are actually grown right here in California. Their juicy, sweet, tangy flesh is the perfect topping for this black rice with mango and coconut cream that was adapted from a recipe in Yotam Ottolenghi & Rameil Scully's cookbook Nopi.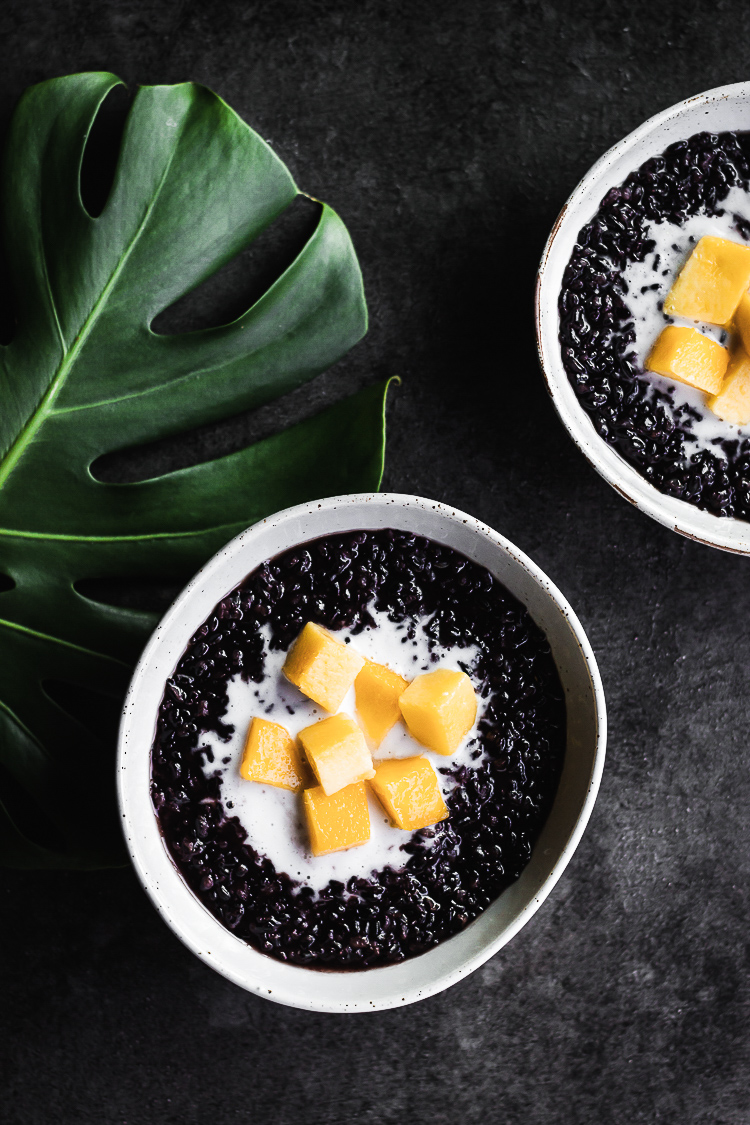 If you have ever made one of Ottolenghi's recipes then you already know why he is one of the top chefs in the world. I have followed his work ever since I first dove into cooking and his recipes have never let me down. When I saw this recipe for black rice with mango and coconut cream in the Nopi cookbook, I knew that I would be recreating it in our kitchen as soon as keitt mangoes came into season. Keitt mangoes have a citrusy brightness to them, they almost taste as if someone has infused them with lime juice. The soft and chewy texture of the black rice topped with luscious coconut cream would be perfectly complemented by the attributes of keitt mangoes. But even with all of that said, the true star of this recipe is hands down, without a doubt, pandan.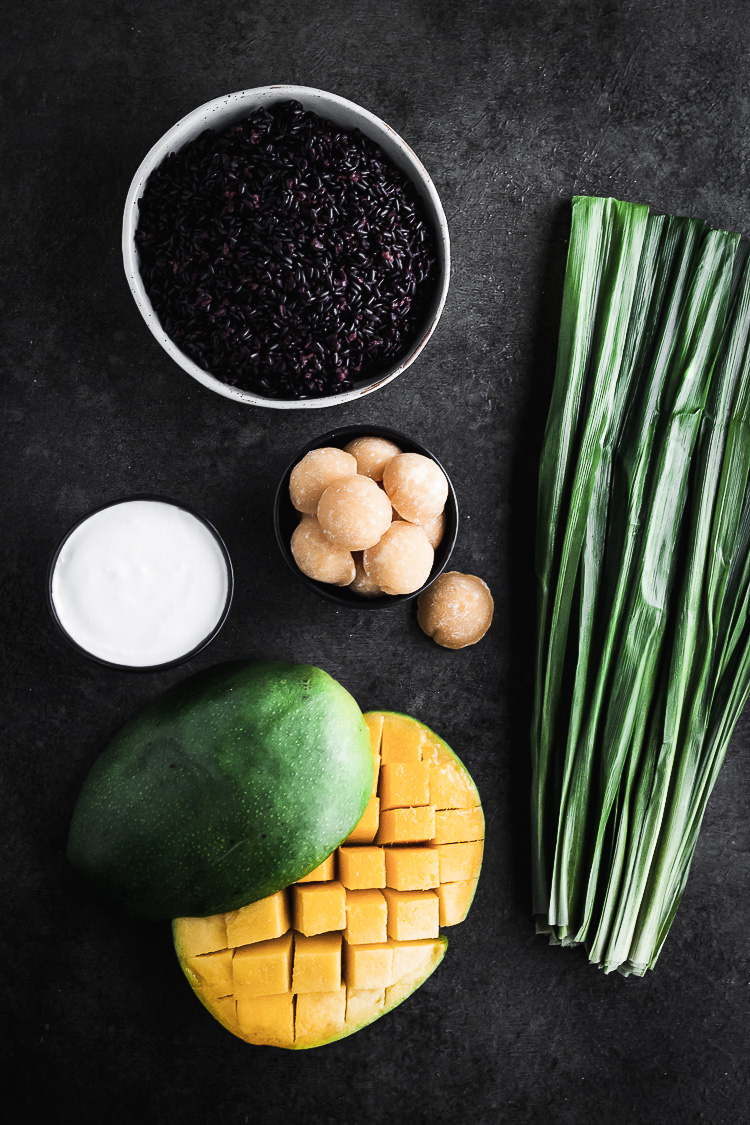 Pandan is the Asian vanilla. The leaves are used in both savory and sweet applications. Pandan gives off a lightly grassy, subtly floral and intriguingly delicious nuance to whatever it is cooked with. Once cooked, the grassiness subsides and leaves behind a subdued, unmistakable flavor that we just can't get over, it is truly incredible. While you may have ever even heard of pandan, you are going to want to introduce yourself to this amazing ingredient.
We are fortunate to have access to frozen pandan leaves available at our local Asian marketplace and using the actual leaves is the best choice for this recipe. As far as the US goes, pandan trees can grow in Hawaii, Florida and some parts of California, so depending on where you live, you may even be able to find one growing somewhere near you (or start growing a plant yourself, which is what we are planning to do!)

While this recipe calls for some less commonly used ingredients, every single one of them is integral to making this dish as special as it is. There are two different types of black rice that will work for this recipe. If you can find black glutinous rice use that, but if you cannot, you can substitute with forbidden rice as it is typically easier to procure. The type of sweetener called for is palm sugar. Palm sugar is made from the sap of certain types of palm trees. It is nutrient-rich, low glycemic and dissolves and melts almost exactly like sugar, all while being completely natural and unrefined. I used whole palm sugar in this recipe, which I also found at our local Asian market. The palm sugar gets boiled with pandan leaves and water to create a gorgeous pandan syrup that will further enhance the dish with its intriguing tropical essence.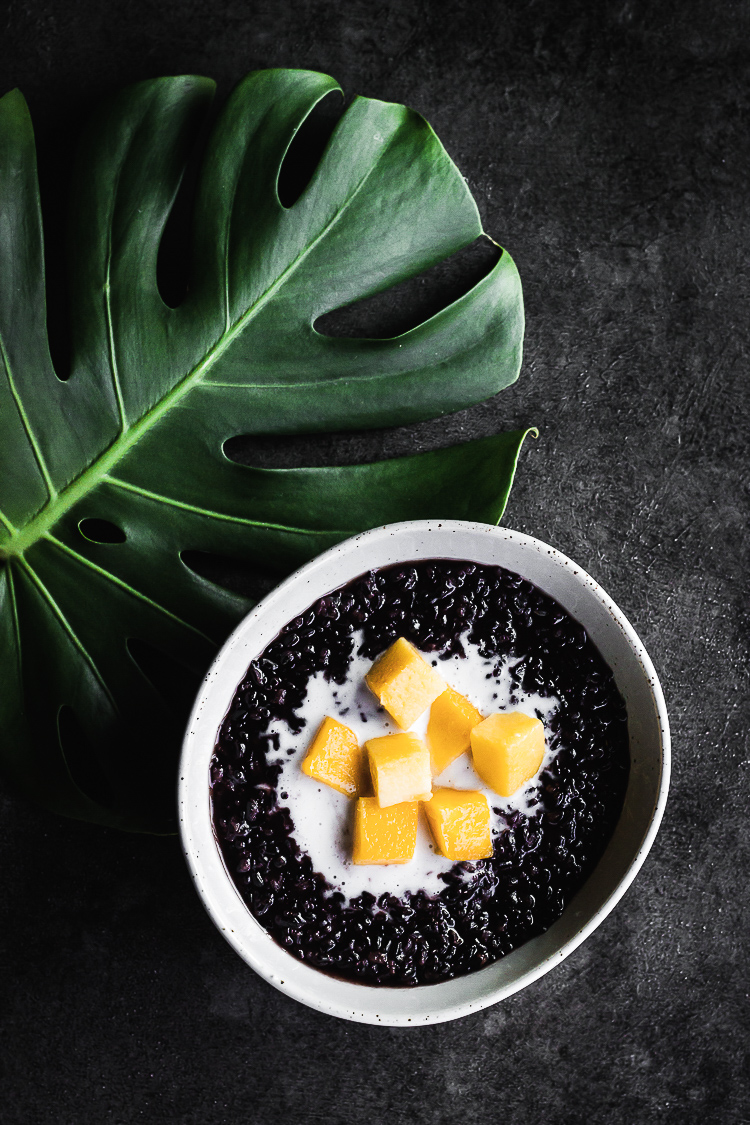 The combination of the black rice infused with pandan leaves, fresh chunks of keitt mango, coconut cream and pandan palm sugar syrup makes for one of the most remarkable dishes we have ever had the pleasure of eating. The warm rice is reminiscent of rice pudding, which we love so much, but it has been utterly elevated to heights we could never have imagined when prepared in combination with pandan, coconut, mango, and palm sugar. We cannot say enough about this recipe, it is simply amazing and truly irresistible.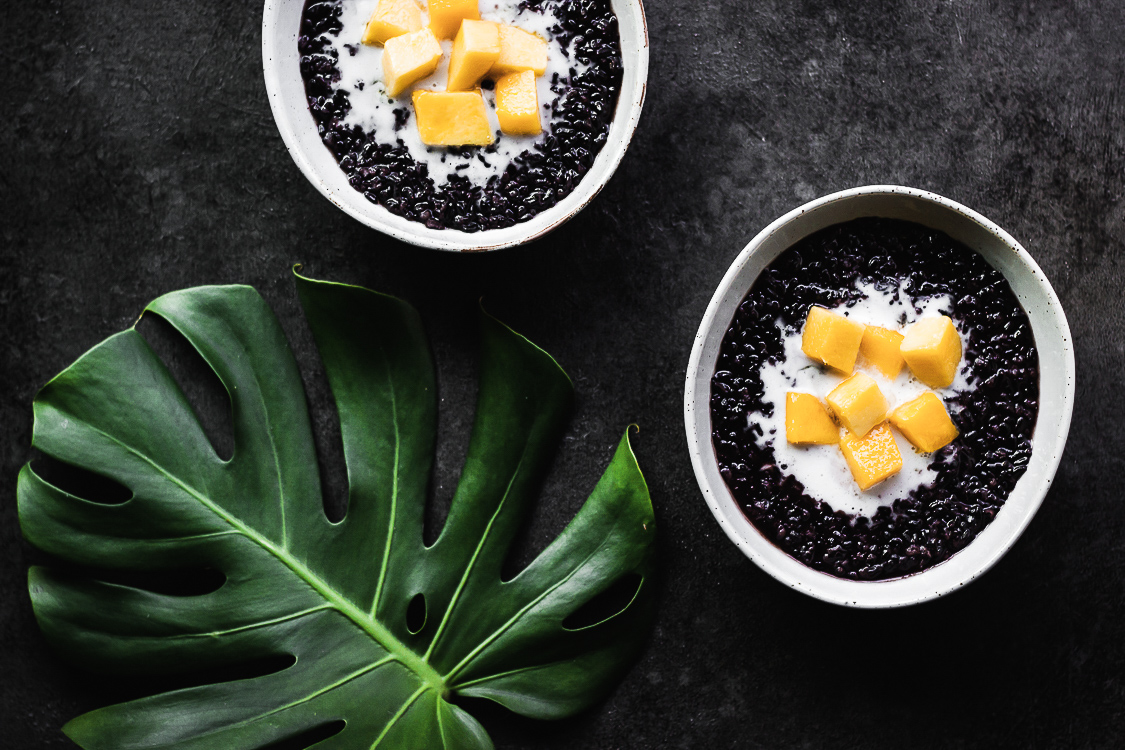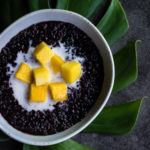 BLACK RICE WITH MANGO and COCONUT CREAM
---

Total Time:

8 hours 35 minutes


Yield:

6

servings

1

x
2

cups

black rice (glutinous black rice or forbidden rice will work) – soaked in plenty of water 8 hours or overnight

1

14oz. can coconut milk – refrigerated 8 hours or overnight, cream separated & resulting liquid reserved

4 2/3

cups

water, divided

2 tsp

fine grain salt

18

large pandan leaves (or substitute with

2

vanilla beans split open lengthwise & seeds scraped as a last resort)

200

g

/7 oz palm sugar (coarsely grated if starting with a block)

1

keitt mango or

2

smaller sized mangoes, peeled & diced into

3/4

" cubes
---
Instructions
FOR THE RICE:
Scoop out the coconut cream that has risen to the top of the can (there should be about 6 oz) & reserve into a small bowl
Drain & rinse the rice and place it in a large saucepan with 10 of the pandan leaves tied in a knot, 4 cups of water, the left over coconut liquid in the can (there should be about 8oz of coconut milk left after harvesting the coconut cream), and 2 tsp salt
Bring to a boil, then cook over medium heat for 30-35 min, stirring every 5 minutes until the rice is cooked through & looks like a thick wet porridge
Allow the rice to cool for about 20 minutes before serving
FOR THE PANDAN SYRUP:
Combine 8 pandan leaves, palm sugar & 2/3 cup water in a small saucepan
Bring to a boil, then cook over medium heat for 20 minutes until it resembles maple syrup
Remove & discard the pandan leaves & stir in 1/4 cup of the syrup to the finished rice
TO SERVE:
Divide the rice between 6 bowls, scoop a dollop of the coconut cream on to the top of the rice, add diced mango & finish each bowl off with a drizzle of pandan syrup
Notes
Adapted from Nopi by Yotam Ottolenghi & Ramael Scully
Prep Time:

0 hours

Cook Time:

0 hours
some other seasonal sweets to make:
ROASTED GRAPE & FENNEL OLIVE OIL CAKE
SWEET GREEN TOMATO BROWN SUGAR & SPICE PIE
APPLE BUTTER RUFFLED MILK PIE