'Tis the season for festive treats that can be shared with friends and loved ones! Although, this year, gathering with friends and loved ones is not in the cards…thankfully we can still spread joy and 'feel togetherness' through special gestures we can ship in the mail! Matcha peppermint bark is what I am sending out this season and I am truly delighted for my loved ones to experience this special treat <3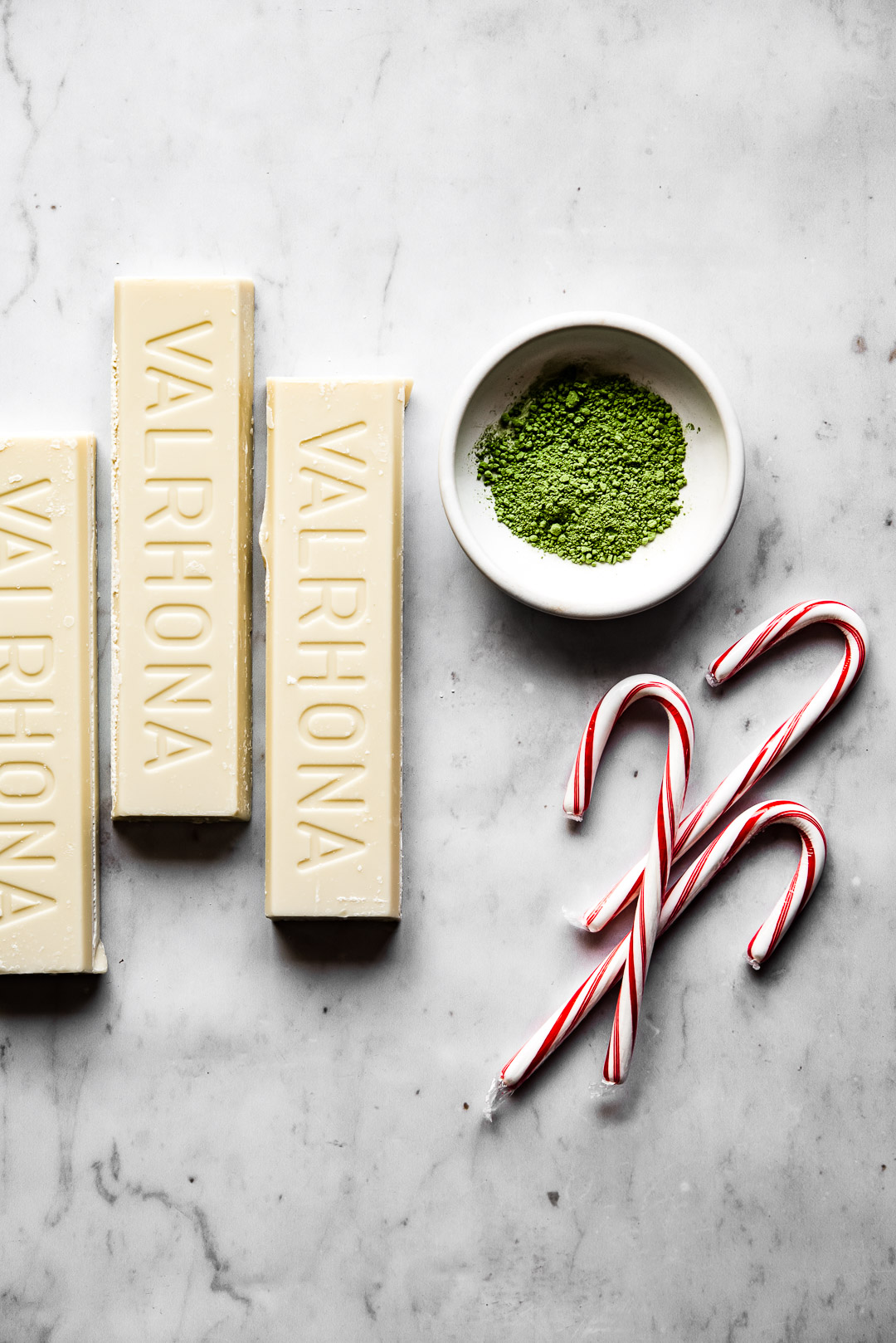 MATCHA PEPPERMINT BARK INGREDIENTS:
Because there are only three ingredients needed to make this matcha peppermint bark, I recommend using the best quality white chocolate and matcha that you can procure.
WHITE CHOCOLATE:
There are two options for the white chocolate in this recipe. If you use traditional white chocolate you will have to temper it in order for the end result to be glossy and snappy (instructions on tempering below). If you want to make this recipe even simpler you can use white melting wafers (like these) which will eliminate the need to temper.
MATCHA:
If you want your matcha peppermint bark to have a lovely green color you must use high-quality matcha. I highly recommend Encha matcha (I used their latte grade). Essentially, you need to use a matcha powder that has a naturally deep green color so that you end up with a beautiful end product.
PEPPERMINT
Crushed peppermint candy is the finishing touch to this sweet treat. The crunchy bits are such a lovely contrast to the smooth and creamy white chocolate. Peppermint goes especially well with both matcha and chocolate. I used candy canes because they are readily available this time of year, but striped peppermint candies are also ideal.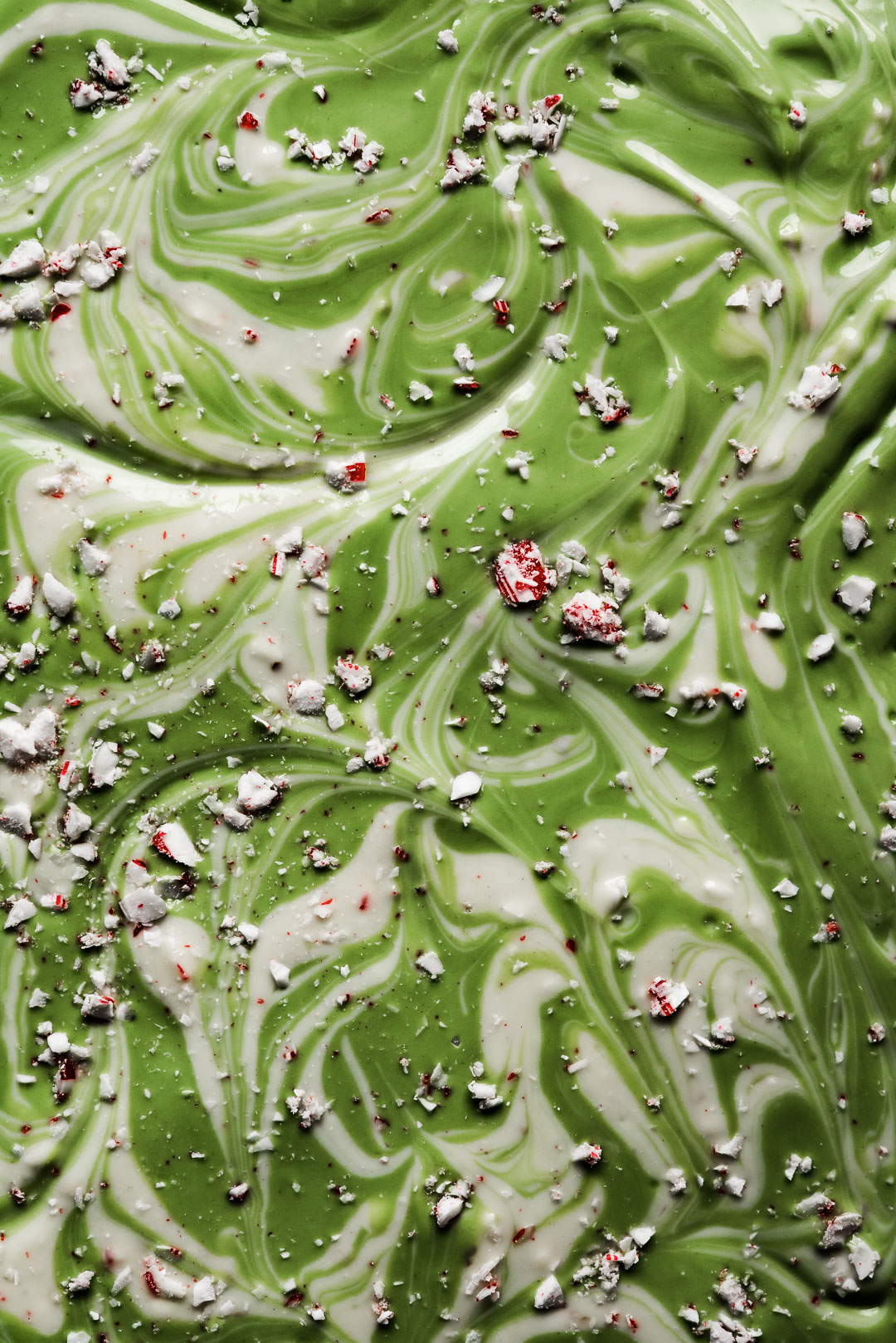 HOW TO TEMPER CHOCOLATE:
Tempering chocolate is a process that requires preciseness, but it is not difficult by any means. Vahlrona has a detailed video on the different methods for tempering chocolate which I highly recommend viewing before you attempt to temper chocolate. I like to use the seeding method for my matcha peppermint bark simply because I think it is the easiest & most user-friendly method.
HEAT SOURCE
Choosing your heat source is a matter of convenience. You can utilize a basic double boiler set up to gently melt and heat your chocolate. Or you can utilize short bursts in the microwave, whichever suits you.
BASIC WHITE CHOCOLATE TEMPERING PROCESS:
MELTING: Heat 2/3 of the chopped white chocolate amount until it melts and reaches 113°-118°F
CRYSTALLISATION: Stir in remaining 1/3 chopped white chocolate to cool-down the melted portion until it reaches 78°-81°F
WORKING: Re-heat the white chocolate to bring it to its working temperature of 82°-84°F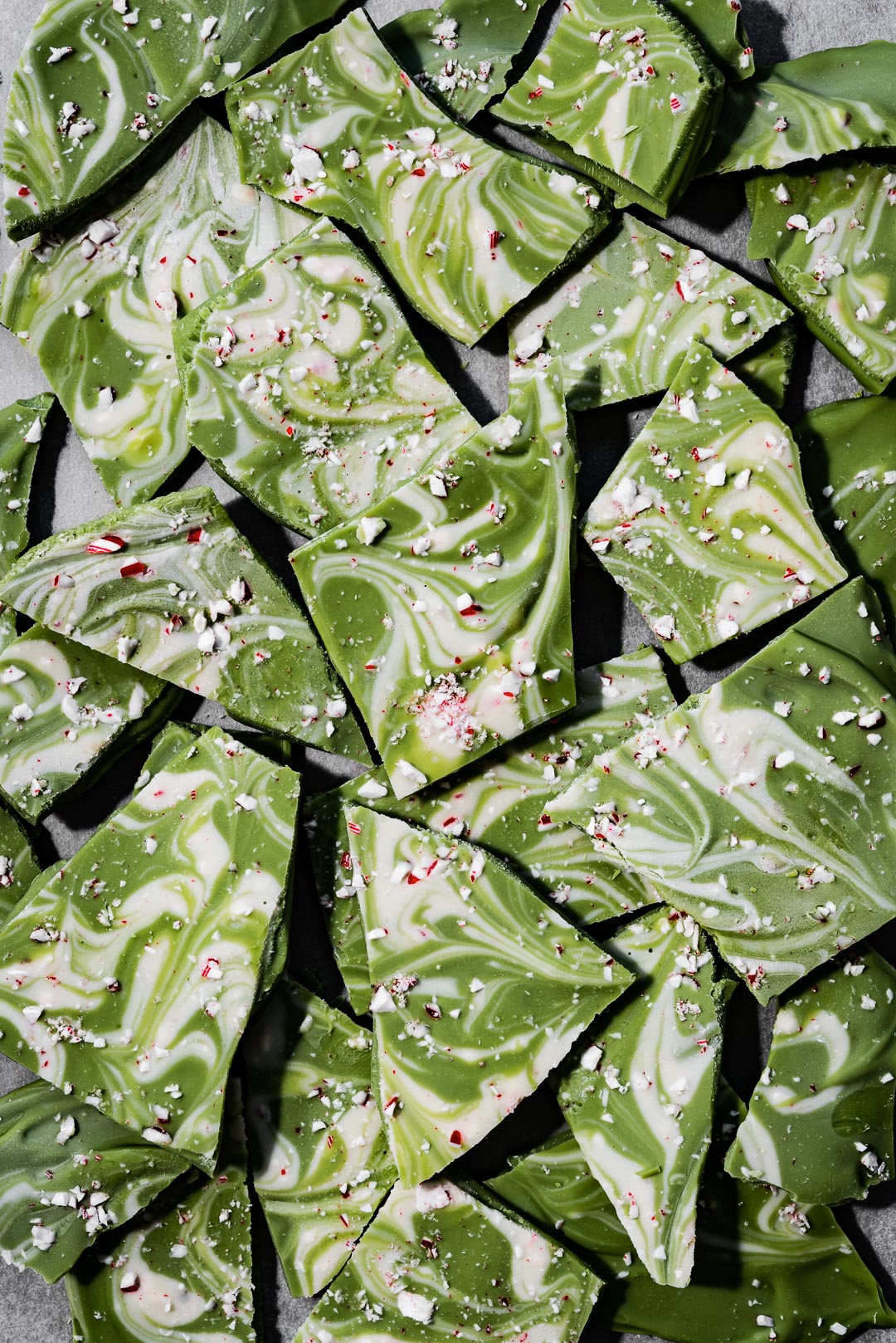 When the white chocolate has been properly tempered, your matcha peppermint bark will have a snappy texture and a beautiful sheen. Once the bark has set, break up the bark into irregular pieces, package them in boxes, and share them with friends and loved ones!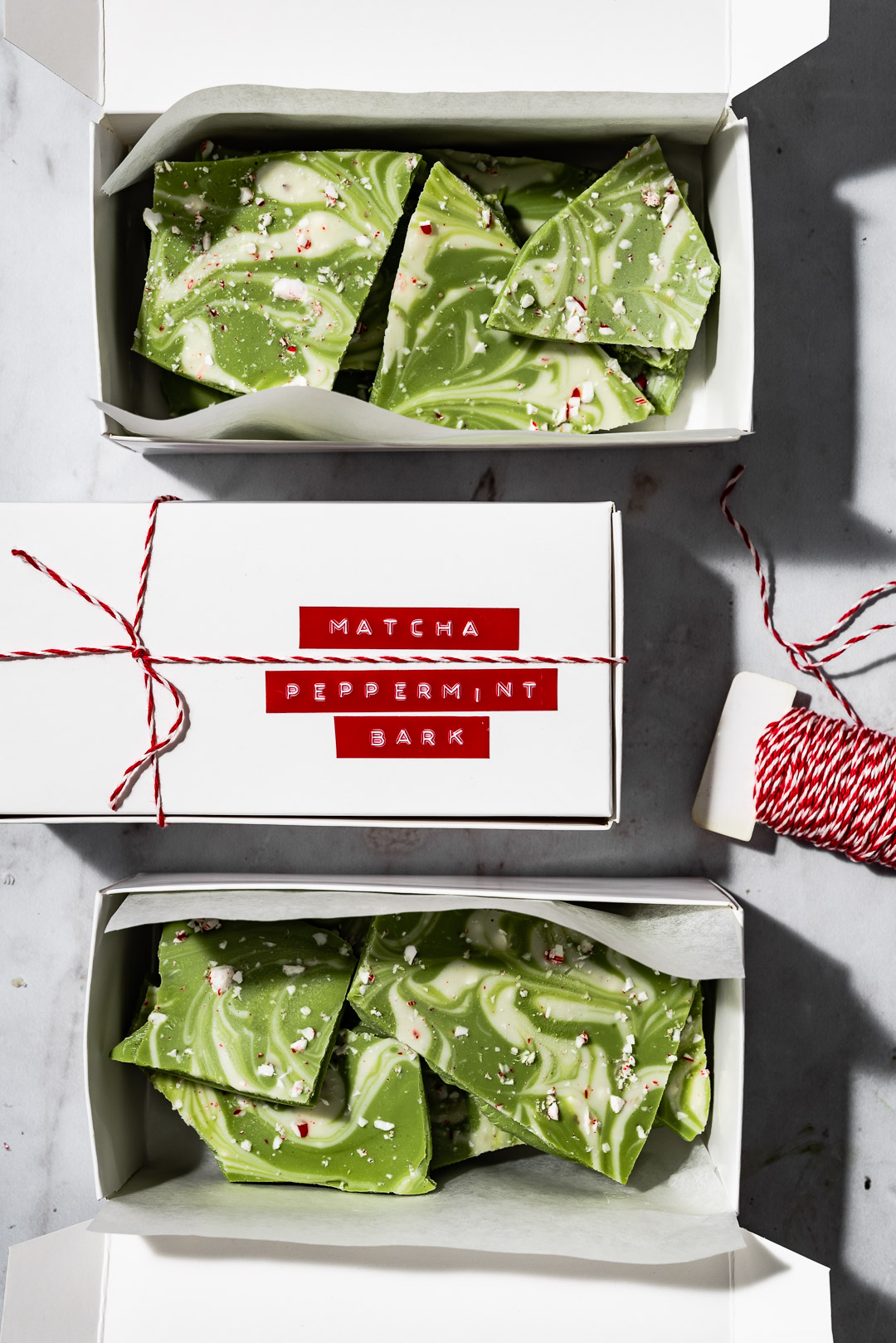 HELPFUL TOOLS FOR MAKING & GIFTING MATCHA PEPPERMINT BARK:
WHITE CHOCOLATE or MELTING WAFERS
MATCHA & PEPPERMINTS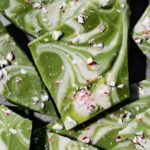 MATCHA PEPPERMINT BARK
---
1

lb

. white chocolate or melting wafers

2 tsp

high quality matcha powder

2 tbsp

crushed peppermint candy (about

one

average sized candy cane)
---
Instructions
If using white chocolate, follow the tempering instructions below:
TO TEMPER WHITE CHOCOLATE:
Chop the white chocolate into small, uniform chunks.Place two-thirds of the chocolate in a heat proof bowl. Reserve the other 1/3 for later use.
Heat the white chocolate over a saucepan with hot but not boiling water, stirring constantly, until chocolate reaches 113°–118°F. Alternately, heat the white chocolate in the microwave in short, 30-second bursts, stirring in between each burst, until chocolate reaches 113°-118°F.
Remove melted chocolate from double boiler or microwave and allow to cool to 95°–100°F. Add the reserved white chocolate to the melted portion, stirring constantly until melted.
The white chocolate should now be close to reaching the crystallization temperature stage of 78°-81°F
Finally, barely re-heat the white chocolate up to its working temperature of 84°F. You can do this over your double boiler or with a short, 15-second burst in the microwave
If using melting wafers:
Simply melt down the melting wafers with your preferred heating method, stirring constantly, until the wafers are just melted but smooth
ASSEMBLY:
Reserve 3-4 tbsp of the melted white chocolate in a small heat-proof bowl
Use a small sieve to sift the matcha into the large bowl of melted white chocolate, stir well with a spatula until matcha is well combined with the white chocolate
Pour the matcha chocolate onto a parchment lined baking sheet, spread out to a 1/4″ thickness with an offset spatula
Add small dollops of the reserved melted white chocolate over the top of the spread out matcha chocolate.
Use a chopstick to swirl the white chocolate into the matcha chocolate
Evenly sprinkle the crushed peppermint candy over the swirled matcha chocolate slab
Allow chocolate to fully set before breaking into pieces. Package to matcha peppermint bark to preserve freshness and share with friends & loved ones.
Prep Time:

30 minutes

Cook Time:

0 hours
MORE MATCHA RECIPES: