I am so honored to be sharing this recipe from my friend Lauren McDuffie's brand new cookbook Smoke, Roots, Mountain, Harvest – which features stories and recipes inspired by her life growing up in the Appalachian Mountain South. The moment I began reading her book, I knew it was a treasure. Lauren has a way with words that draws you into the world she wants you to experience. Her way with food honors the traditions of the land she came from while giving her recipes enough modernity to transform traditional comfort food into inspired meals for everyone. Which leads me to the recipe I chose to share with you today. After reading through Lauren's cookbook, there was one recipe that I could not get out of my mind – her Buttermilk & Lemongrass Granita. This unexpected combination of flavors had already won me over before I had even made it.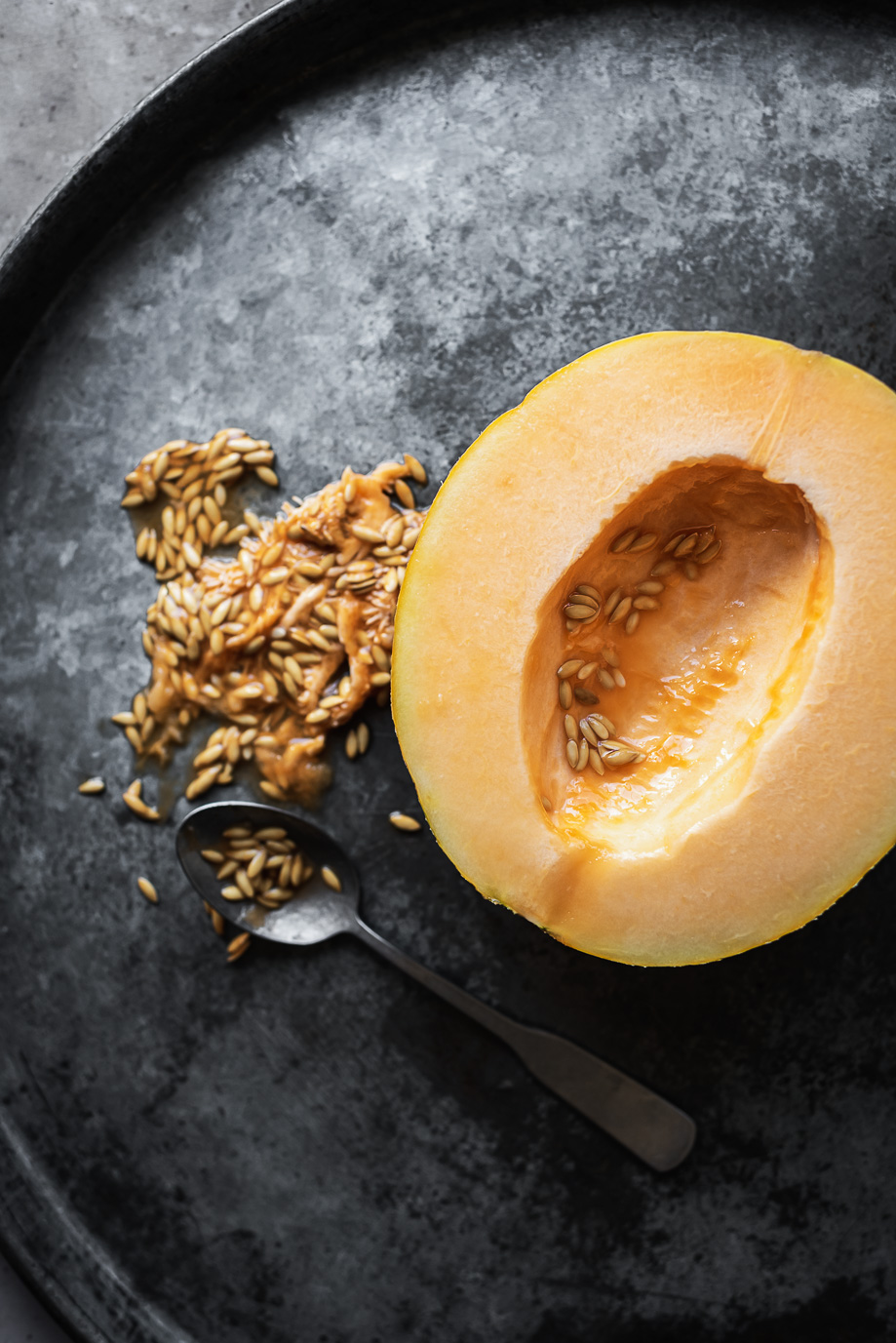 Buttermilk is a staple in Southern baking, the soured milk does wonders for biscuits, cornbread, cakes & pancakes. But I would have never expected it to be so incredible in a frozen dessert. The creamy tang of the buttermilk combines with coconut, lemongrass & ginger in this recipe for a granita that is unlike any granita you have ever tasted.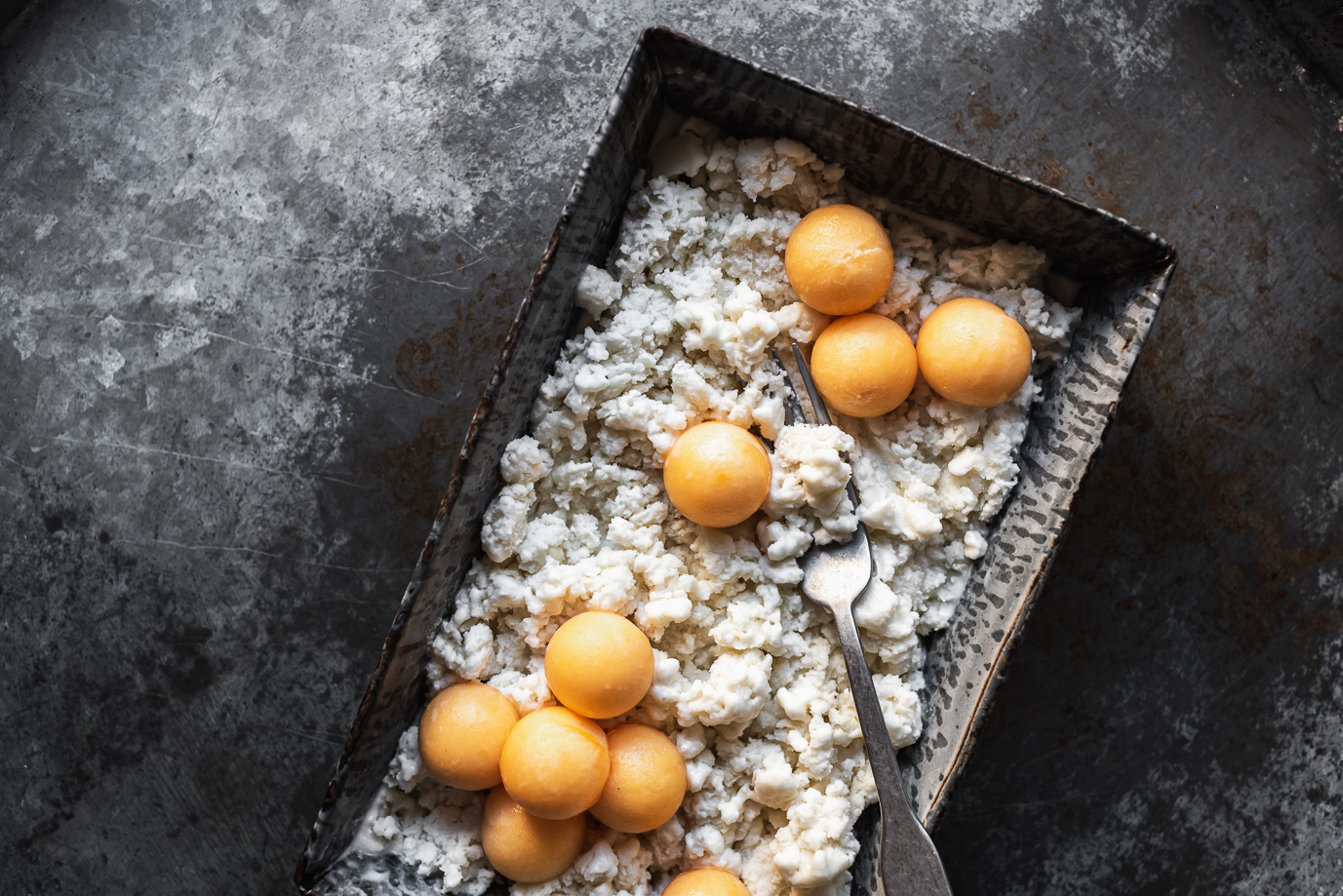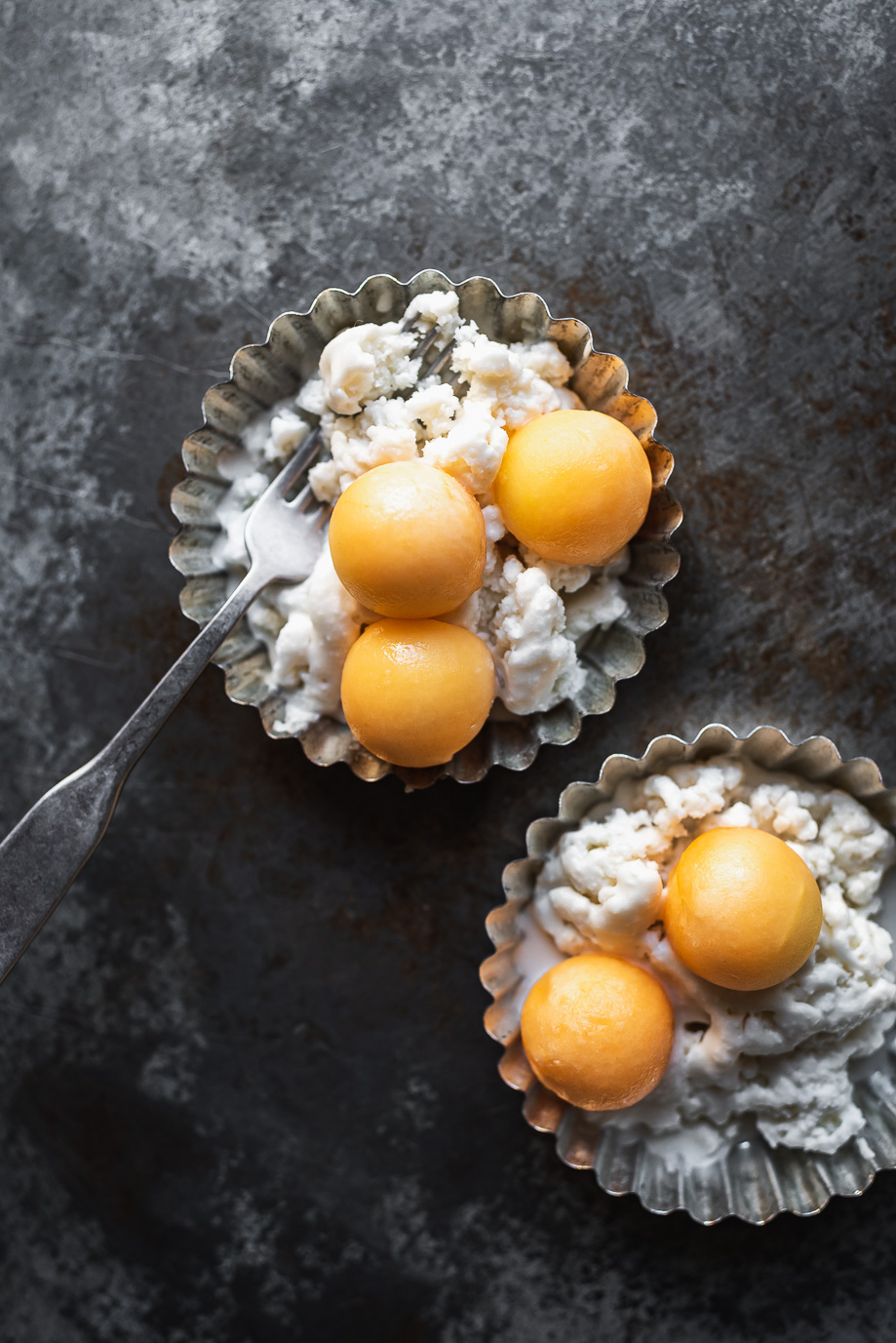 Ever since my first taste, I have been intrigued by this recipe. The texture is icy yet creamy. The flavors are perfectly balanced with just the right amount of sweetness to leave your palate refreshed. Lauren suggests serving her buttermilk & lemongrass granita with fresh mango slices, but since we are in the thick of melon season here, I served mine with balls of sweet orange melon (this is my favorite melon baller). As the granita starts to melt (which they so quickly do) you get this amazing trio of textures. The icy chunks of granita, the melty pools of sweet lemongrass-infused buttermilk & coconut cream contrasting with the juicy melon – it is a culinary experience that I will never forget.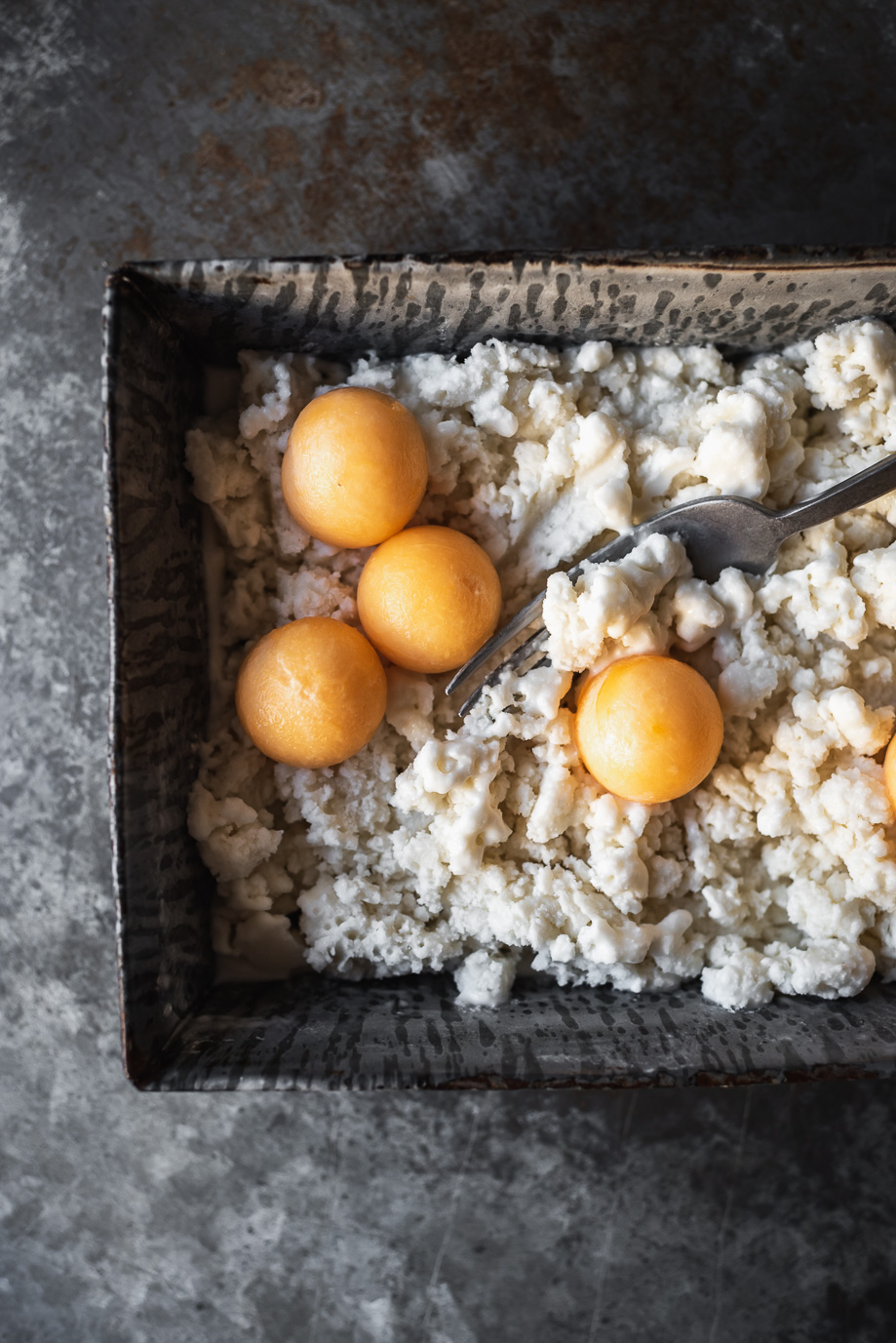 If you're interested in learning more about Lauren's beautiful cookbook Smoke, Roots, Mountain, Harvest, you can find out more here. For a chance to win a copy of your own, check out this post on Instagram where I am hosting a giveaway for her book!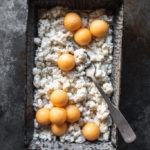 BUTTERMILK & LEMONGRASS GRANITA
---
Total Time:

30 minutes

Yield:

8

1

x
(1)

14.5

oz

(415 g) can of coconut milk (make sure to stir or shake the can before opening)

1/2

cup

(160 g) cream of coconut
(1) 1/2-in (12 mm) piece fresh ginger, peeled & thinly sliced

1

cup

(200 g) sugar

1 tbsp

lemongrass paste

2

cups

(480 ml) buttermilk

2 tsp

vanilla extract
Fresh, in-season melon, scooped into balls, for serving (or substitute sliced mango)
Coconut flakes for serving (unsweetened or sweetened; optional)
---
Instructions
In a medium pot over medium heat, combine the coconut milk, cream of coconut, ginger sugar and lemongrass paste.
Bring to a gentle simmer and cook, stirring frequently, until the sugar has completely dissolved, 3 to 4 minutes.
Remove from the heat, stir in the buttermilk and vanilla, and allow the mixture to steep for 20 minutes.
Strain into a freezer-safe, 9 by 13 in (23 by 33 cm) baking dish or pan, discarding the solids. Allow the mixture to come to room temperature, cover, and refrigerate for at least 8 hours.
Transfer the dish to the freezer and freeze for 1 1/2 hours. Remove the granita from the freezer and scrape with a fork, breaking it up and flaking it until you have a fluffy frozen slushie. It will likely be quite loose still, but that's okay. (The scraping helps create ice crystals, which give the finished dessert its requisite crunchy, flakey texture, and it keeps the mixture from freezing solid.) Return the dish to the freezer for 1 hour, and scrape again. Return to the freezer for 1 more hour, and then give it a final scrape before serving.
Meanwhile, if you plan to serve the granita with the coconut flakes, put them in a small dry skillet over medium heat. Toast the coconut, stirring occasionally, until it has browned very lightly and smells slightly nutty, 3 to 4 minutes. Keep an eye on it, as coconut goes from toasted to burnt very quickly.
Serve the granita with the melon balls (or sliced mango) and toasted coconut, if desired. Leftover granita will keep, in a covered container in the freezer, for up to 6 months. If completely frozen, let it warm up for 30 minutes at room temperature before giving it a final scrape.
Prep Time:

30 minutes

Cook Time:

0 hours