Oh, how good it feels to put a blog post together! It has been far too long since I have sat down to share a recipe here with all of you. Life has been full these last two months and I am feeling grateful for all of that I was able to accomplish, but I am ready to settle down at home & spend the summer recharging as much as possible. Which brings me to this centercut squash blossom pizza recipe. A pizza inspired by a very special variety of squash & a summer night spent chilling in the backyard with friends.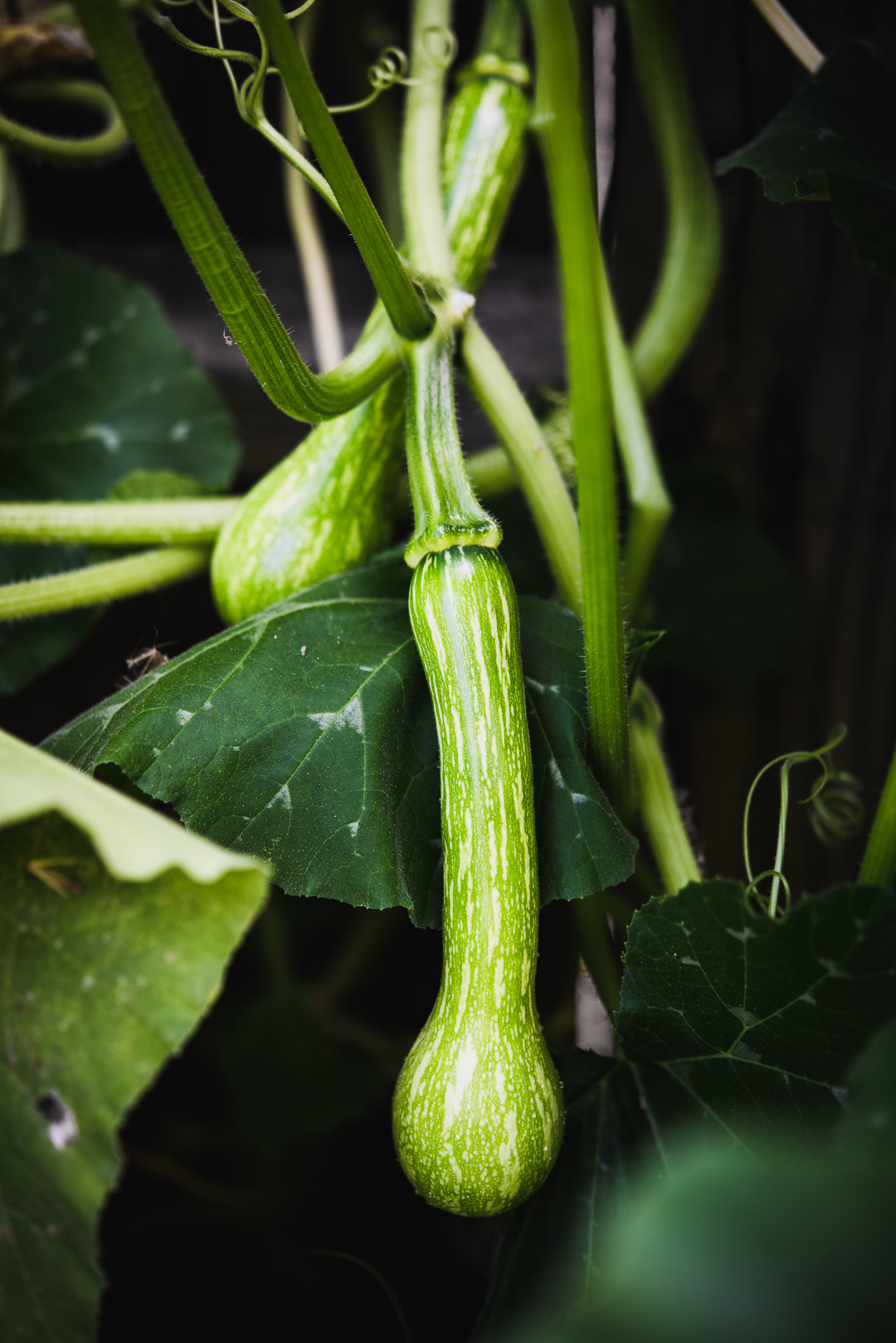 Before we get to the pizza, we need to talk a little bit about centercut squash. This particular variety of squash comes from Row 7 Seed Company, a seed company built by chefs and breeders striving to make ingredients taste better before they ever hit a plate. I did not have a chance to start any vegetables from seed for a summer garden this year, but my good friends Kyle & Morgan of Urban Farmstead did & it just so happened that Kyle planted several varieties of squash from Row 7, including centercut squash! Centercut squash is very similar to the squash that we grew in Greece last summer. It is a dual-purpose squash that is edible in both summer and winter. Today, I am highlighting the green, immature fruit that is harvested in summer when the fruit is tender. Centercut's long neck is denser and less watery than the average zucchini, packing in more complex flavor with a nutty taste and meaty texture.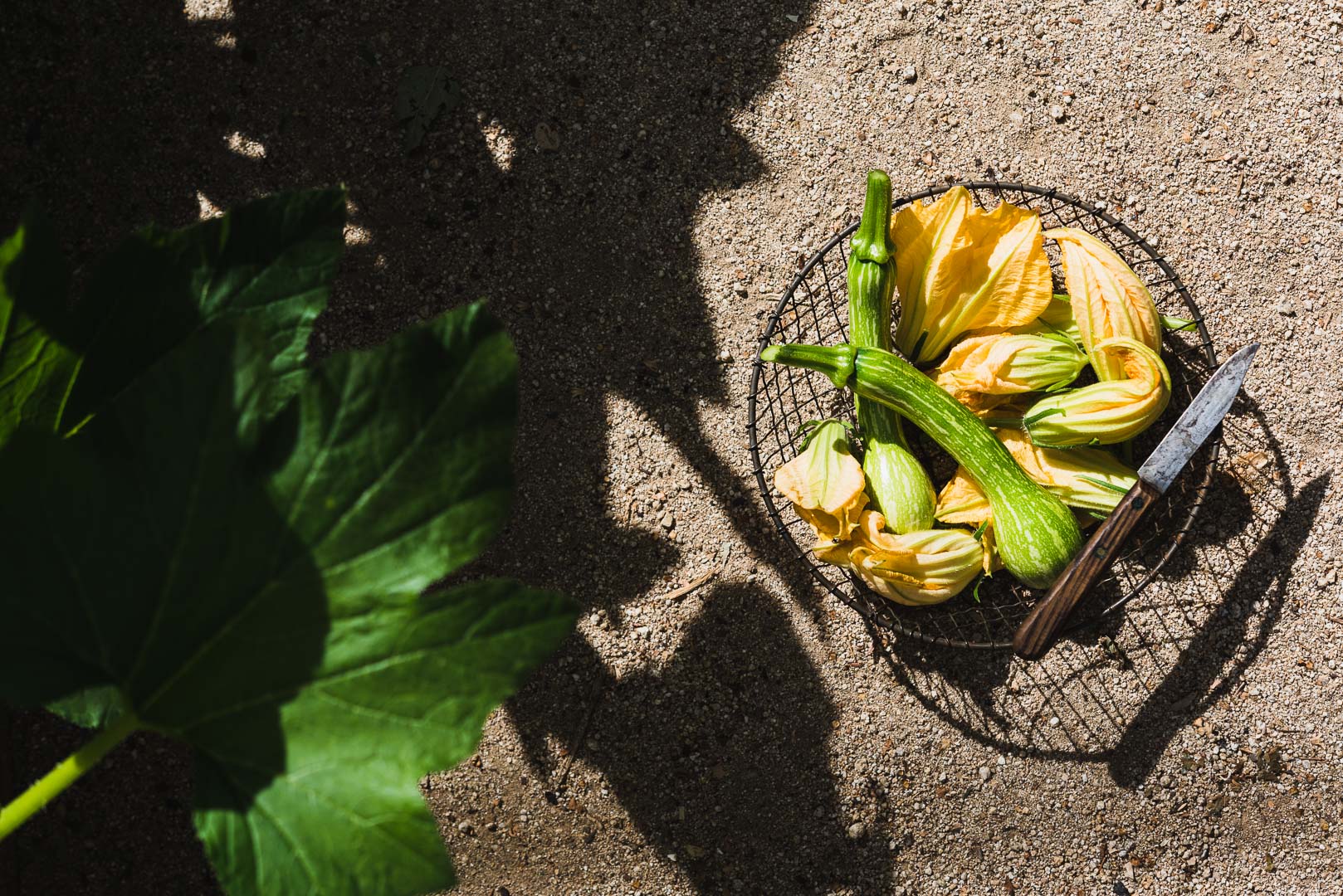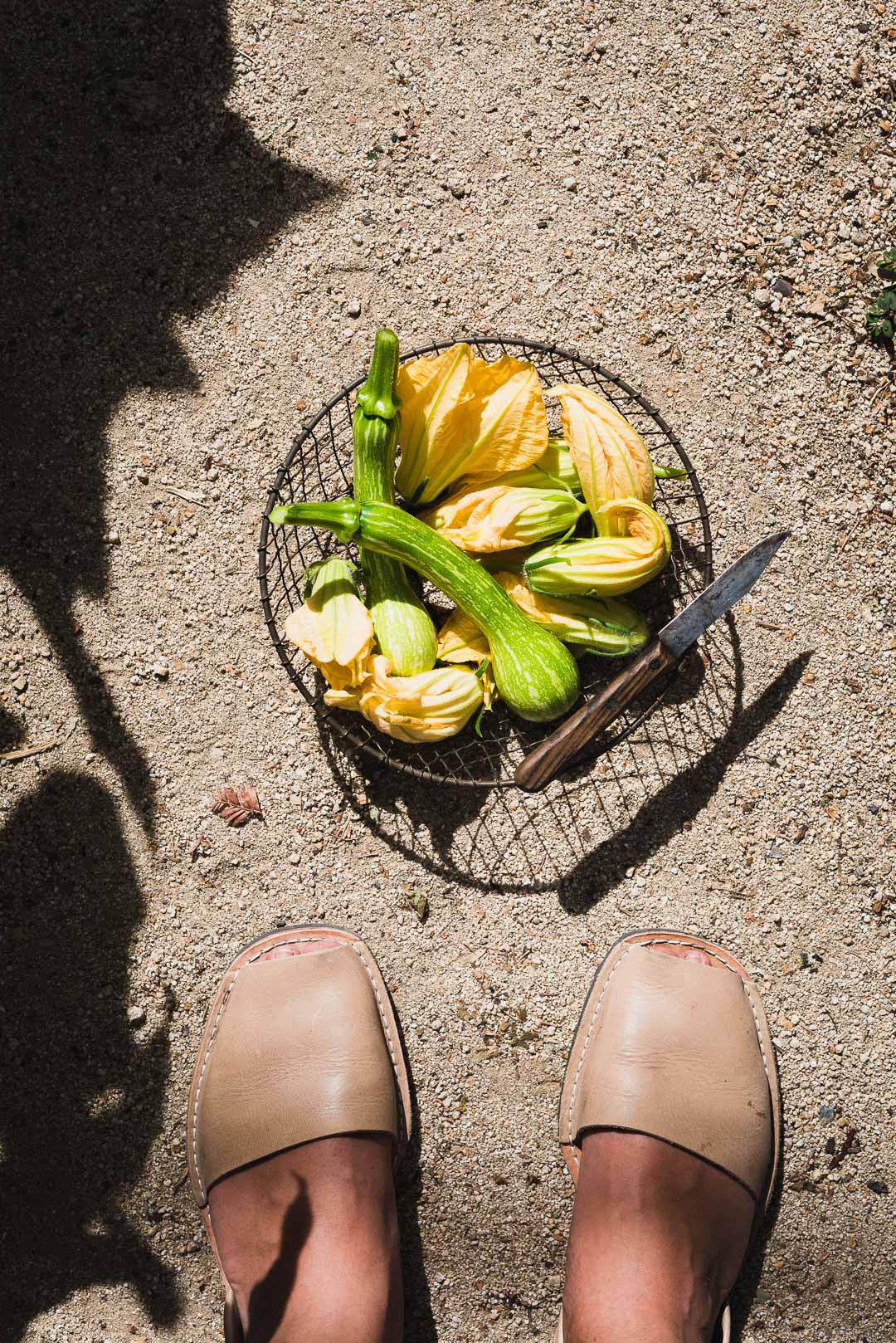 When Kyle & Morgan recently invited us over for a woodfired pizza night in their backyard, Morgan asked me what kind of pizza I wanted to make for the occasion. The first idea that came to mind was to use centercut squash & its blossoms as toppings. Squash blossoms are one of our very favorite treasures of the summer garden & I knew they would pair perfectly with thin ribbons of the centercut squash atop of a creamy garlic white sauce with dollops of fresh mozzarella.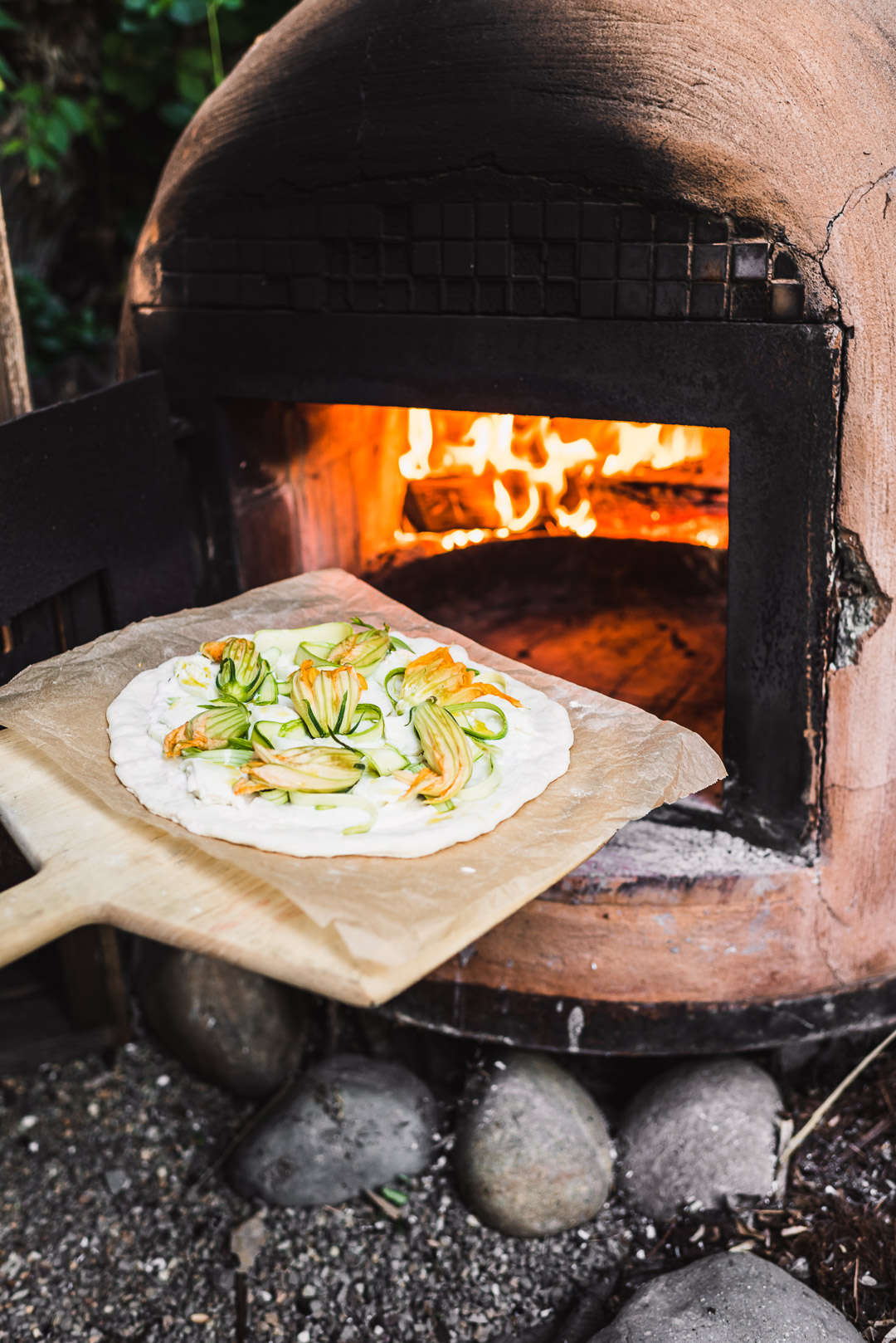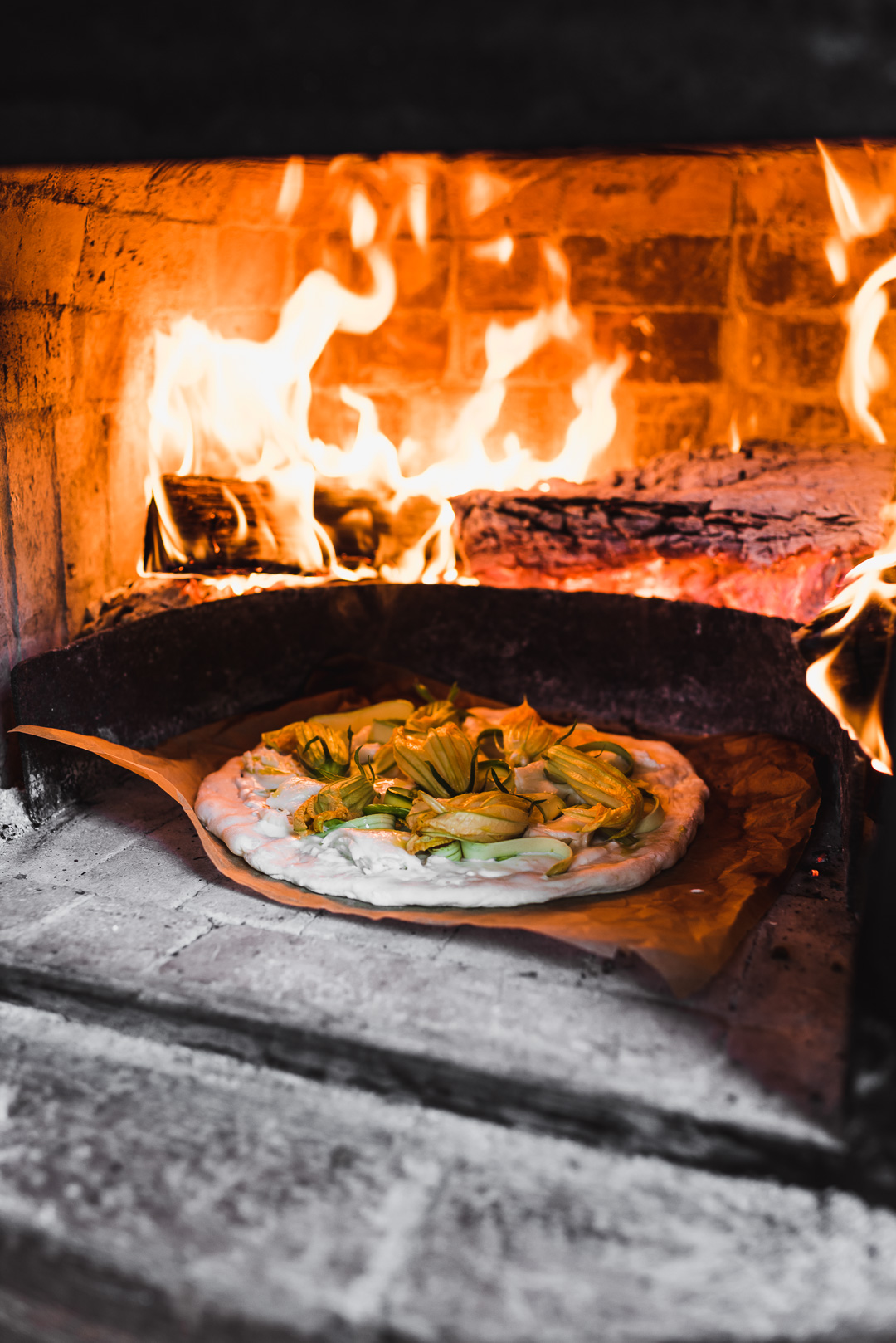 Now, you don't have to have a garden to make this pizza – you don't even have to use centercut squash (though I do hope that you feel inspired to grow this unique variety of squash at some point!) Yellow squash or zucchini would both be perfect substitutes, including their blossoms, which you should hopefully be able to find at your local farmers market this summer if you don't have a garden yourself. The key is to shave whatever squash you use into very fine ribbons. As you can see, we used a wood-fired oven to bake our pizza, but I have included some tips in the recipe below for how to achieve a great bake on your pizza with a conventional oven.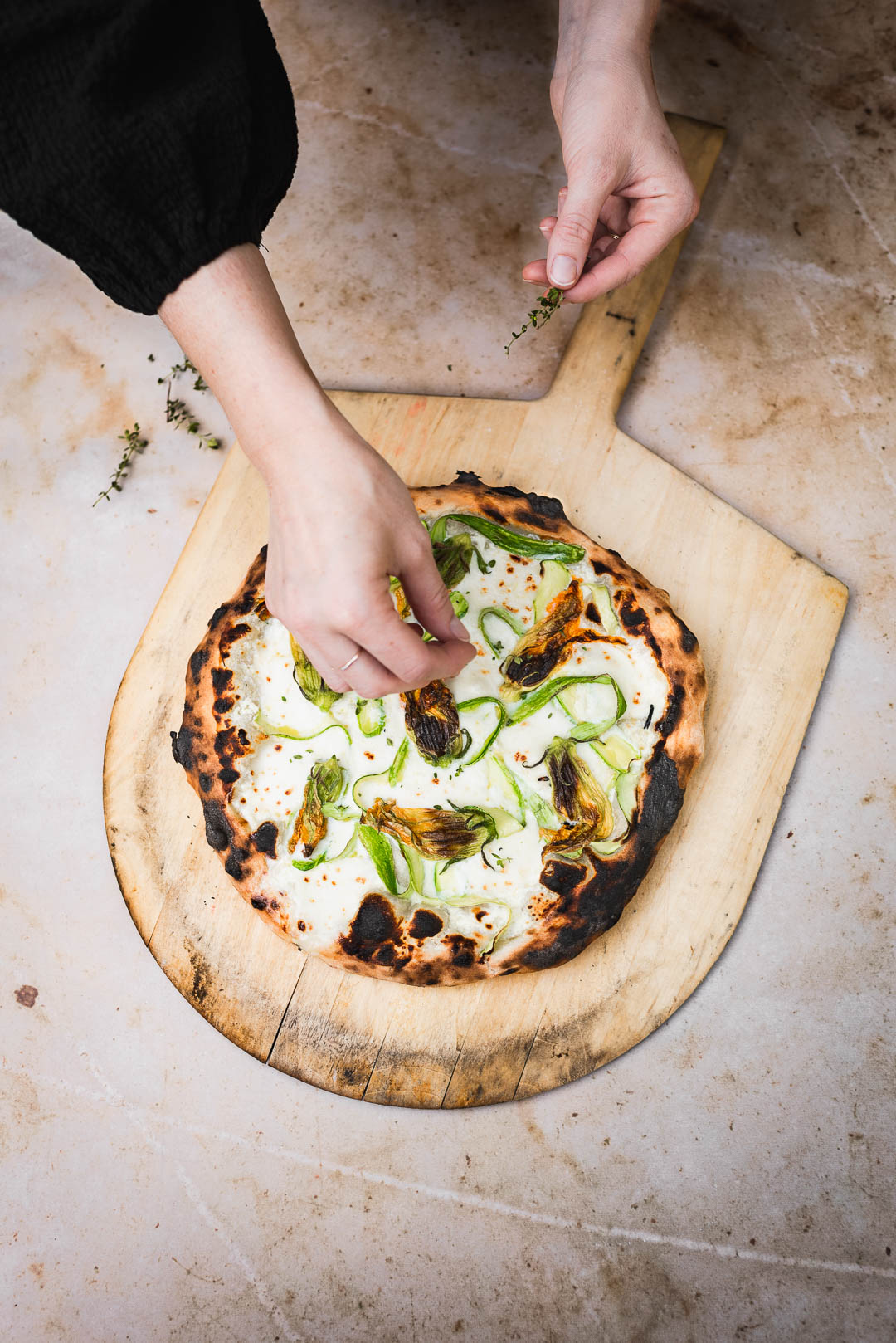 The flavors of this centercut squash blossom pizza are quite simple. The garlic sauce recipe is a long time favorite of ours from Food 52 & it is the perfect base for the shaved squash & blossoms to shine. A final sprinkling of fresh thyme is the perfect touch to compliment the sweet, nutty flavor of the centercut squash & its blossoms. Out of all the pizzas we whipped up that night, this was by far our favorite.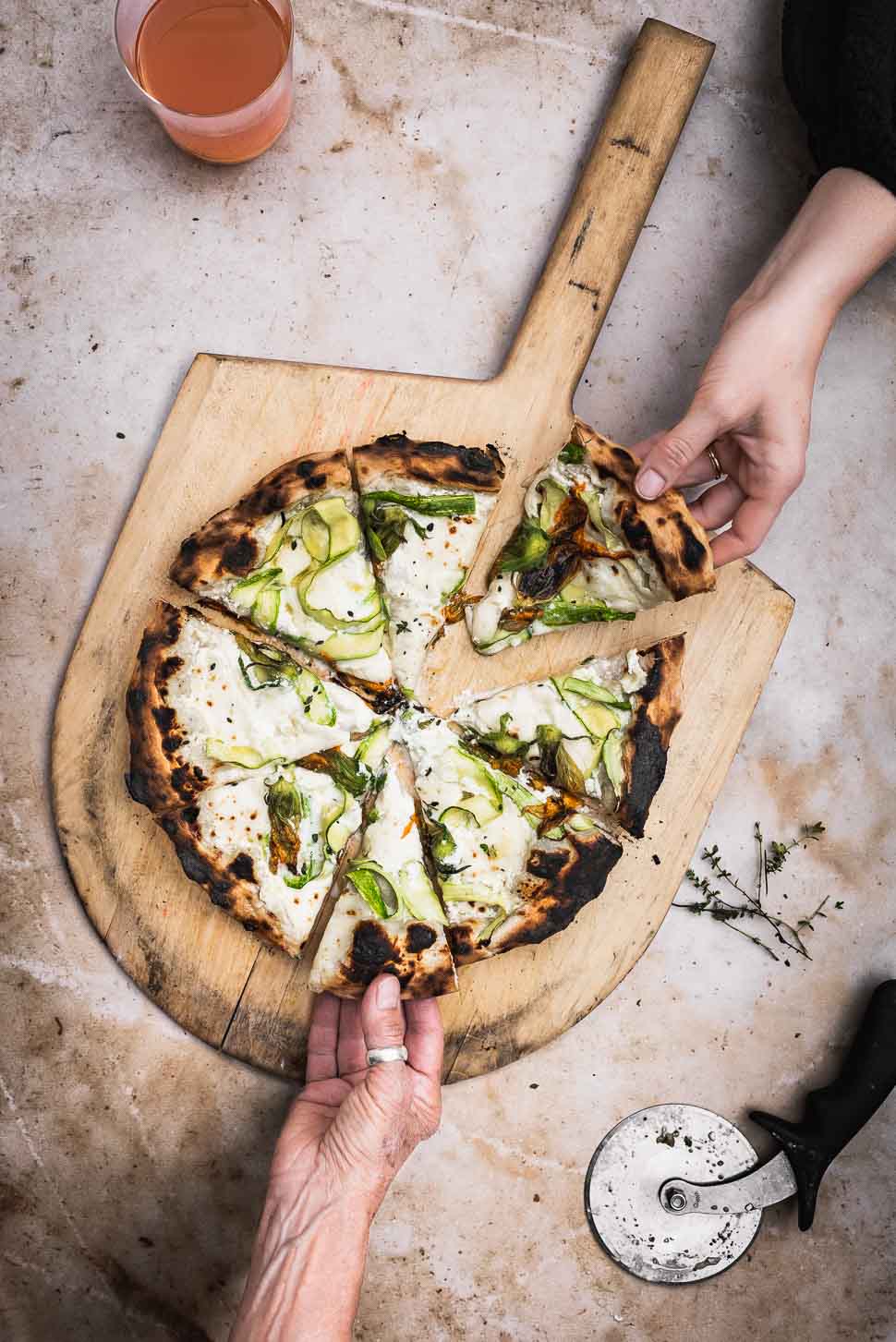 Print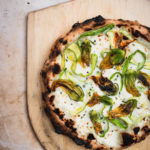 CENTERCUT SQUASH BLOSSOM PIZZA
---
Total Time:

1 hour 20 minutes

Yield:

6

1

x
FOR THE DOUGH:
3 1/4

cups

all-purpose flour, plus more for shaping dough

2 teaspoons

fine sea salt

1/4 teaspoon

active dry yeast
FOR THE SAUCE:
2 tbsp

cup

extra-virgin olive oil

2

garlic cloves, minced

1/2

cup

plain Greek yogurt or labneh

1/2

cup

ricotta

1/2 tsp

kosher salt
FOR THE TOPPING:
2

–

4

squash or zucchini, shaved into ribbons

24

squash blossoms
(2)

8

oz

. balls of fresh mozzarella, broken into smallish chunks
fresh thyme for garnish
---
Instructions
FOR THE DOUGH:
*This recipe is from Bon Appetit & it is our favorite no-knead pizza dough recipe. I recommend cutting their recipe in half to make 3 centercut squash pizzas. For the full list of instructions on how to make the dough, follow this link:
FOR THE SAUCE:
In a small pan over medium heat, cook the garlic in a splash of olive oil until it softens (about 2 minutes).
In a small bowl, mix together the Greek yogurt, ricotta, 1/2 teaspoon of kosher salt, and cooked garlic
ASSEMBLING THE PIZZA:
Prepare a ball of dough by gently pulling & stretching it into 10-12\\\\\\\\\\\\\\\" round
Spread about 1/4 cup of the sauce in an even layer, leaving about 1\\\\\\\\\\\\\\\" of dough on all sides
Add about 1/2 cup of mozzarella chunks about the top of the pizza, followed by about 1 cup of shaved squash and then nestle about 8 squash blossoms amongst the cheese & shaved squash
BAKING THE PIZZA:
FOR A CONVENTIONAL OVEN: To simulate same the type of cooking environment as a wood-fired oven in your kitchen, set a baking steel within 6-8? of the broiler and preheat your oven to 450-500F for at least 30-45 minutes. Once you're ready to bake your pizza, slide your pizza onto the stone, turn off the oven & set the broiler to high – the pizza should cook to perfection in 4-7 minutes (the time depends on your preferred doneness)
FOR A WOOD-FIRED OVEN: We have found that the pizzas will slide into the wood-fired most successfully if we prepare the dough on a round of trimmed parchment paper. Once you have slid your pizza into your wood-fired oven, it will take about 4-7 minutes to bake, depending on how hot your oven is & your preferred doneness. You will need to rotate the pizza 180 degrees 1/2 way through cooking to ensure your crust cooks evenly & doesn\\\\\\\\\\\\\\\'t burn (you will need to watch the pizza the entire time)
TO SERVE:
Garnish the pizza with a sprinkling of fresh thyme leaves when it comes out of the oven, allow pizza to cool for about 3-5 minutes before slicing & serving
Prep Time:

1 hour

Cook Time:

20 minutes

Category:

Pizza