Winter is probably the one season that people do not consider to have a bountiful harvest of seasonal produce, but we have experienced quite the opposite. Our farmer's market has a plethora of different vegetables available year-round, but most of the available vegetables in the winter are not commonly eaten in our modern food system. Vegetables of all sorts line the market tables every winter: turnips, rutabaga, daikon, kohlrabi – these winter crops are foreign to most of us. But sticking to seasonal eating means you have to be willing to try something new and by doing that you just may discover a hidden gem in those uncommon veggies. That is precisely what happened to us when we picked up some kohlrabi from the farmer's market. They entered our kitchen as raw kohlrabi stems with their leaves still attached and entered our bellies as the most amazing kohlrabi fritters.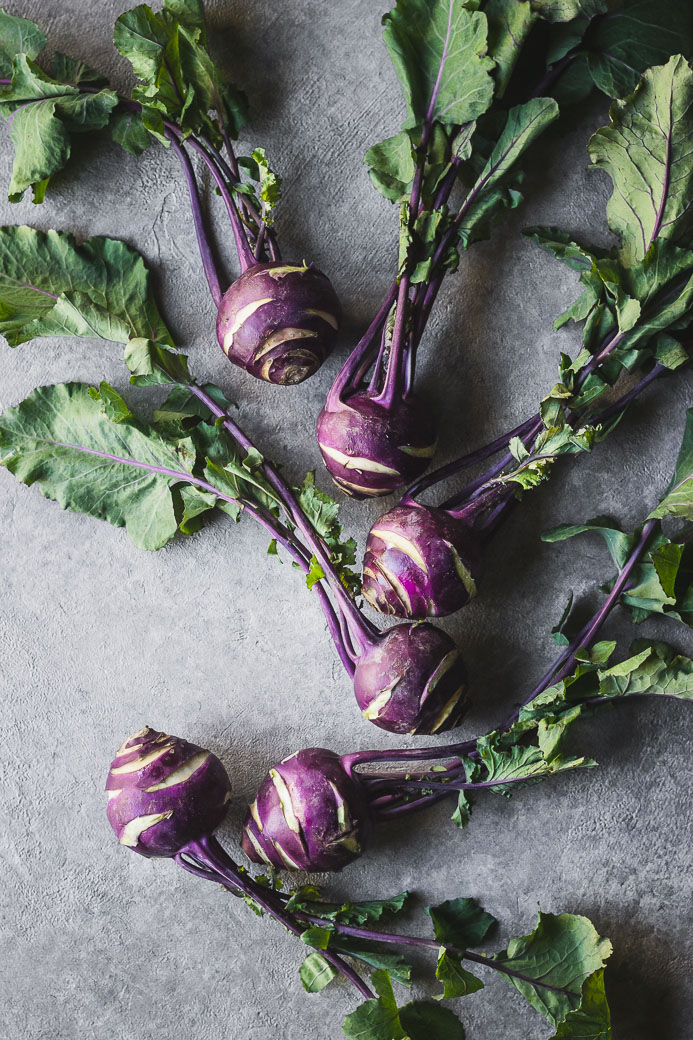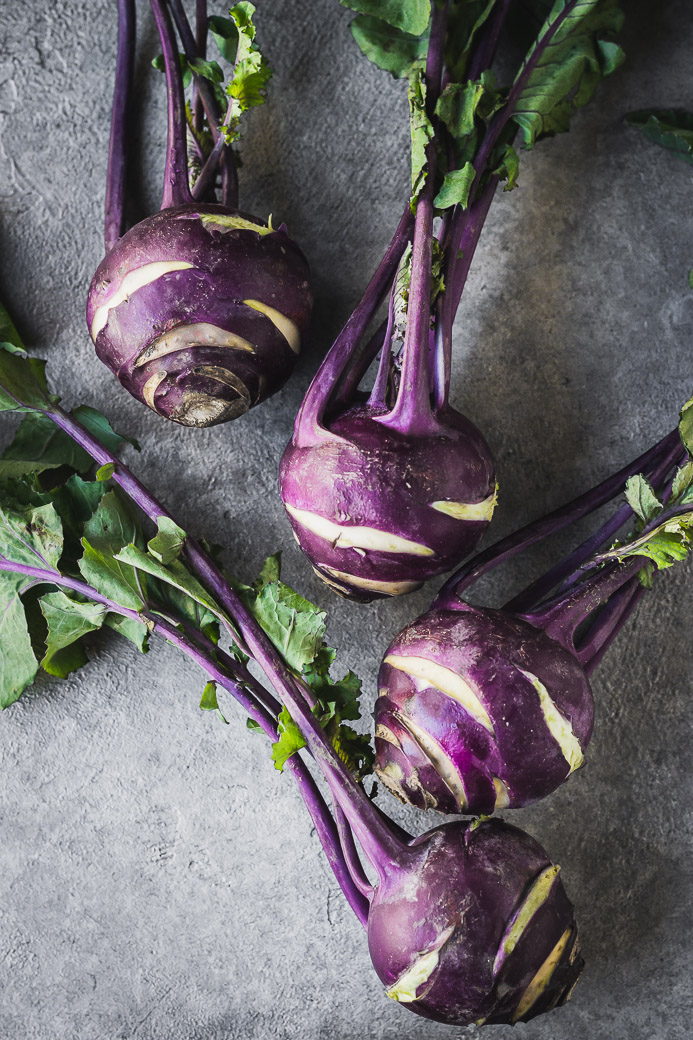 what is kohlrabi anyway?
The name Kohlrabi comes from the German: kohl ("cabbage") rabi ("turnip") with its origin stemming from the wild cabbage plant just like its relatives cabbage, broccoli, kale, collard greens and brussels sprouts. The taste and texture of kohlrabi is very similar to the stem of broccoli or the heart of cabbage, but its flavor is mild and sweet in comparison. Kohlrabi flesh is crisp and juicy like an apple and its leaves are similar to kale, so it is the perfect candidate to be eaten raw as a salad or cooked into fritters – we went for fritters ;)
Kohlrabi is an ideal vegetable for fritters. Their flesh is a perfect consistency and the leaves incorporate so well, almost turning into a kale chip-like texture once the fritters get fried nice and crisp. We keep the add-ins pretty simple with these fritters because we really want the flavor of the kohlrabi to shine. Chickpea flour is our flour of choice for these fritters- its sweet rich flavor complements the kohlrabi nicely, plus it is rich in protein and naturally gluten-free. (* if you can't get chickpea flour, you can substitute with any type of flour really!)
We used buttermilk for moisture and an egg for binding, but the recipe can easily be made dairy-free and egg-free by substituting dairy-free buttermilk and ground flax + water, also known as a flax egg – the details are in the recipe down below.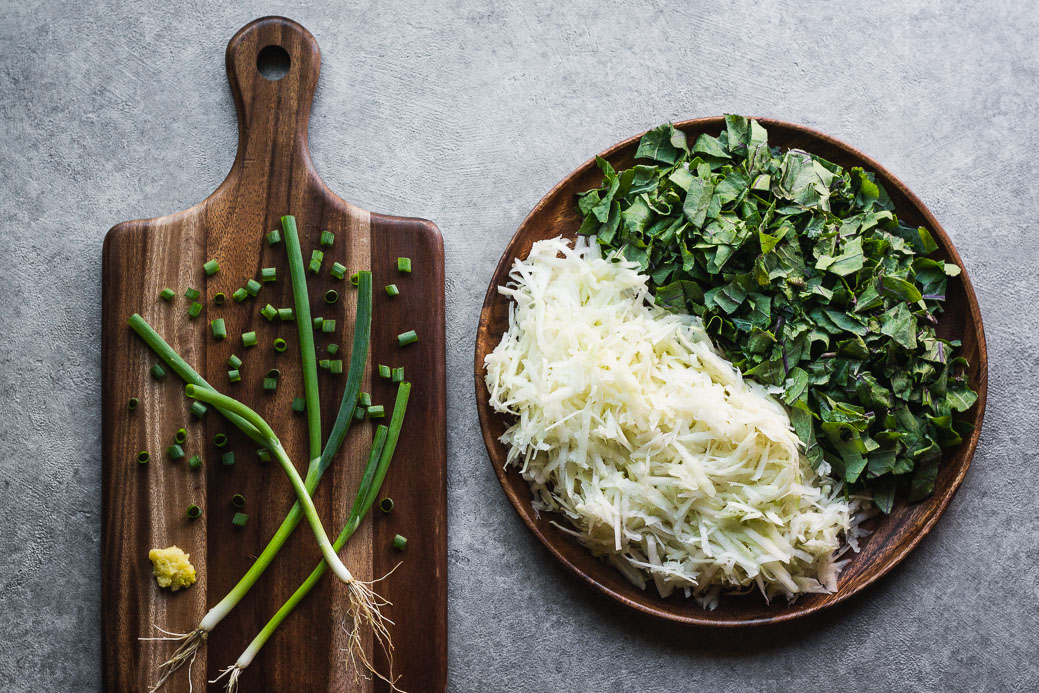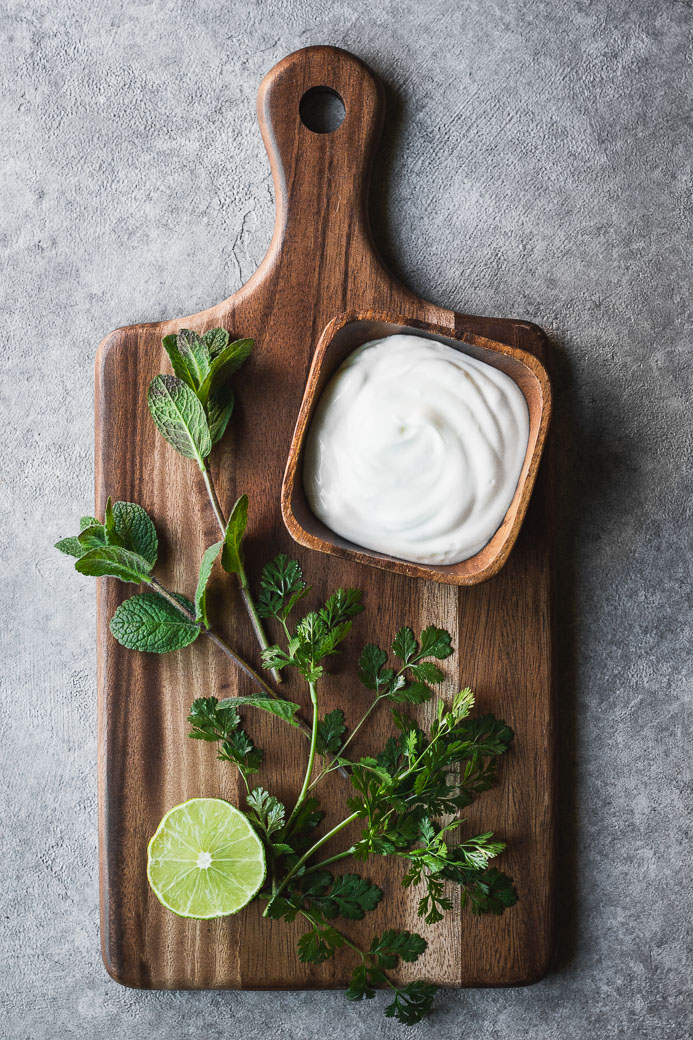 a case for seasonal eating:
The kohlrabi fritters turn a beautiful golden hue once cooked and their crispy edges are perfectly contrasted with a dollop of cool cilantro, mint & lime yogurt. Cilantro, mint & lime are all in season along with kohlrabi so pairing them together is naturally meant to be. We used Greek yogurt in our recipe, but coconut milk yogurt would be a well–suited substitute for a dairy-free option.
Out of all of the fritters that we have eaten in our home, these kohlrabi fritters have become our absolute favorite. The addition of the leaves not only makes this a no-waste vegetable recipe, but the flavor and texture they add to the fritters is just amazing. This recipe proves that sticking to seasonal eating, even when the options are unfamiliar, is totally worth it.
When seasonal eating became an integral part of our real food journey, not only were we granted the opportunity to try new things, like kohlrabi, but we realized the positive impact seasonal eating would have on our local community. By buying direct from growers at our local farmer's market, we support people who are dedicated to growing food with integrity. And an added benefit is that the products we buy was harvested the day before we buy it, making it as fresh & nutritious as can be!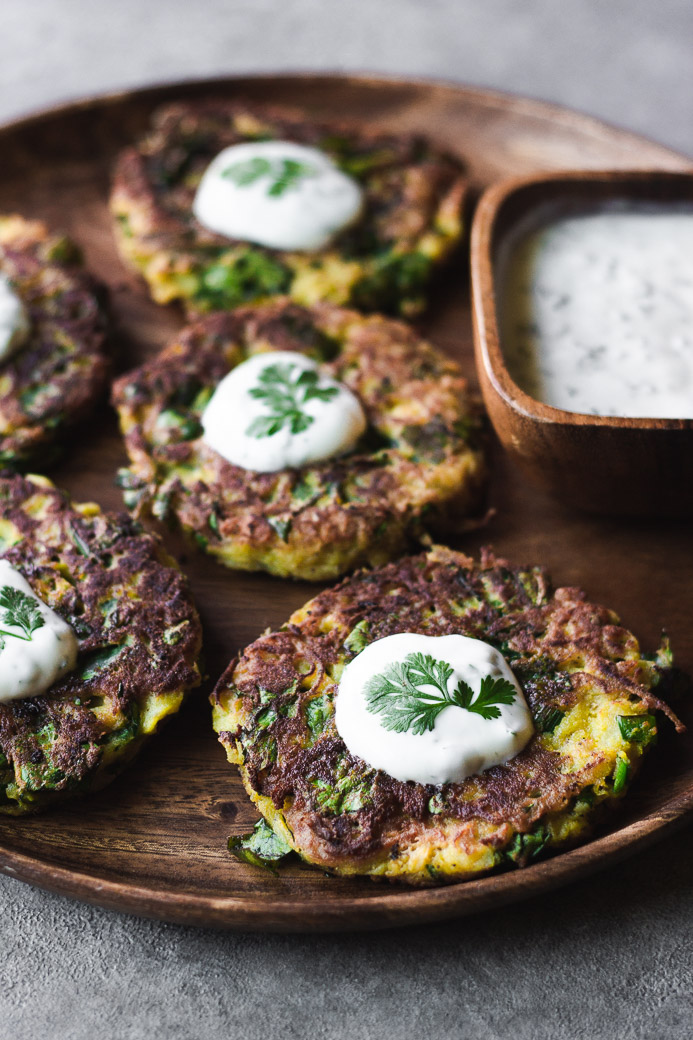 Hopefully, by now, you have been convinced that seasonal eating has some amazing rewards; for your community, for your life, and for your tastebuds! And if you have been on the fence about trying a vegetable that you have no experience with, start with kohlrabi and make these fritters – you'll never look at an unfamiliar vegetable the same again.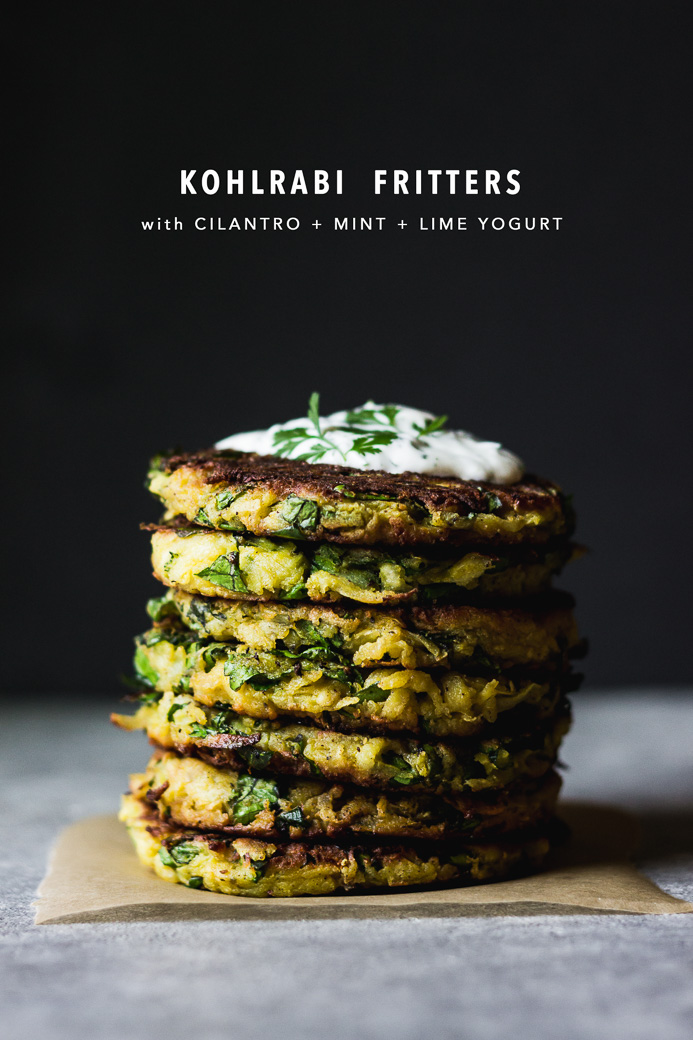 FOR THE FRITTERS:
2

lbs of kohlrabi with leaves attached

2

–

3

green onions

1

clove of garlic, minced (we use a microplane zester for this)

1

cup

chickpea flour

1/2 tsp

baking soda

1/2 tsp

fine grain salt

1/4 tsp

oregano

1/4 tsp

turmeric

1/4 tsp

cayenne pepper

3/4

cup

buttermilk (see note below for dairy free substitute)

1

egg (see note below for egg free substitute)
Palm shortening or avocado oil for frying
FOR THE YOGURT:
1

cup

Greek yogurt (or substitute coconut milk yogurt)

1/2

lime

1 tbsp

chopped fresh cilantro

1 tsp

chopped fresh mint
pinch of fine grain salt
cilantro leaves for garnish
---
Instructions
Start by removing the leaves from the kohlrabi
De-stem the leaves & rinse the kohlrabi leaves in cool water, shake dry or spin in a salad spinner to dry
Chop the kohlrabi leaves into approximately 1/2″x1/2″ pieces & reserve
Peel the outer skin off of the kohlrabi, grate the kohlrabi & reserve
Dice green onion & mince 1 large clove of garlic & reserve
In a bowl, combine chickpea flour, spices, salt & baking soda – whisk to combine
In a separate bowl, whisk buttermilk, egg & reserved garlic together until well incorporated
Add flour mixture to wet ingredients & whisk until batter is smooth
Add grated kohlrabi, chopped leaves & diced green onion to the batter, using a spatula to fold the vegetables into the batter until well incorporated
Pre-heat oven to 170f degrees & prepare a baking sheet with paper towels
Heat a 12″ cast iron skillet over medium heat with enough oil to fill the pan 1/4″ high
Once oil is heated, use 1/3 cup to portion each fritter into the pan – (we use these molds to keep their shape uniform) smooth each fritter until it is even in thickness
Fry over medium heat for about 3-4 minutes on each side
While the fritters fry, you can make the yogurt sauce: blend yogurt, herbs, lime juice & salt in a small bowl until well combined, reserve
When the fritters are done frying, remove them from the pan & place them on the paper towel lined baking sheet & place the baking sheet in the oven to keep the fritters warm while you fry the next batch, adding oil to the pan as needed
Once all of the fritters are done, top them off with yogurt sauce, garnish with cilantro leaves & serve
Notes
DAIRY FREE BUTTERMILK: combine 3/4 cup dairy free milk of choice & add 1 1/2 tbsp lemon juice or apple cider vinegar – let stand 5-10 minutes
FLAX EGG: combine 1 tbsp of ground flax seed with 3 tbsp of water –
stir well & let set for 15 minutes